Saturday was the annual January Arnold Arboretum bird walk and 30 people signed up on the Arboretum website.  When I awakened and saw the temperature at 12° F, I wondered if anyone would show up.  I got to the main gate at 9AM (Temp 16° F) and was greeted by 19 bundled-up birders, eager and ready to go!  Our first stop was the feeders next to the Hunnewell Building; maintained with funds from the 1912 Edward Whitney Bird Fund (more about that in a future post).  There was little bird activity in the trees and bushes on the grounds, but the feeders were hopping!  Nothing special; but this group of mostly beginning birders were delighted with close-up views of House Finches, American Goldfinches, cardinals and four sparrow species.  I also discussed the "magic halo" I put around the feeders in December; it was doing it's job.  All the House Sparrows were on the ground waiting for cast-offs from the birds at the feeders.
As we moved on, the birding went from active to nearly absent.  We picked up a Northern Mockingbird in the Leventritt Gardens that responded to my pishing: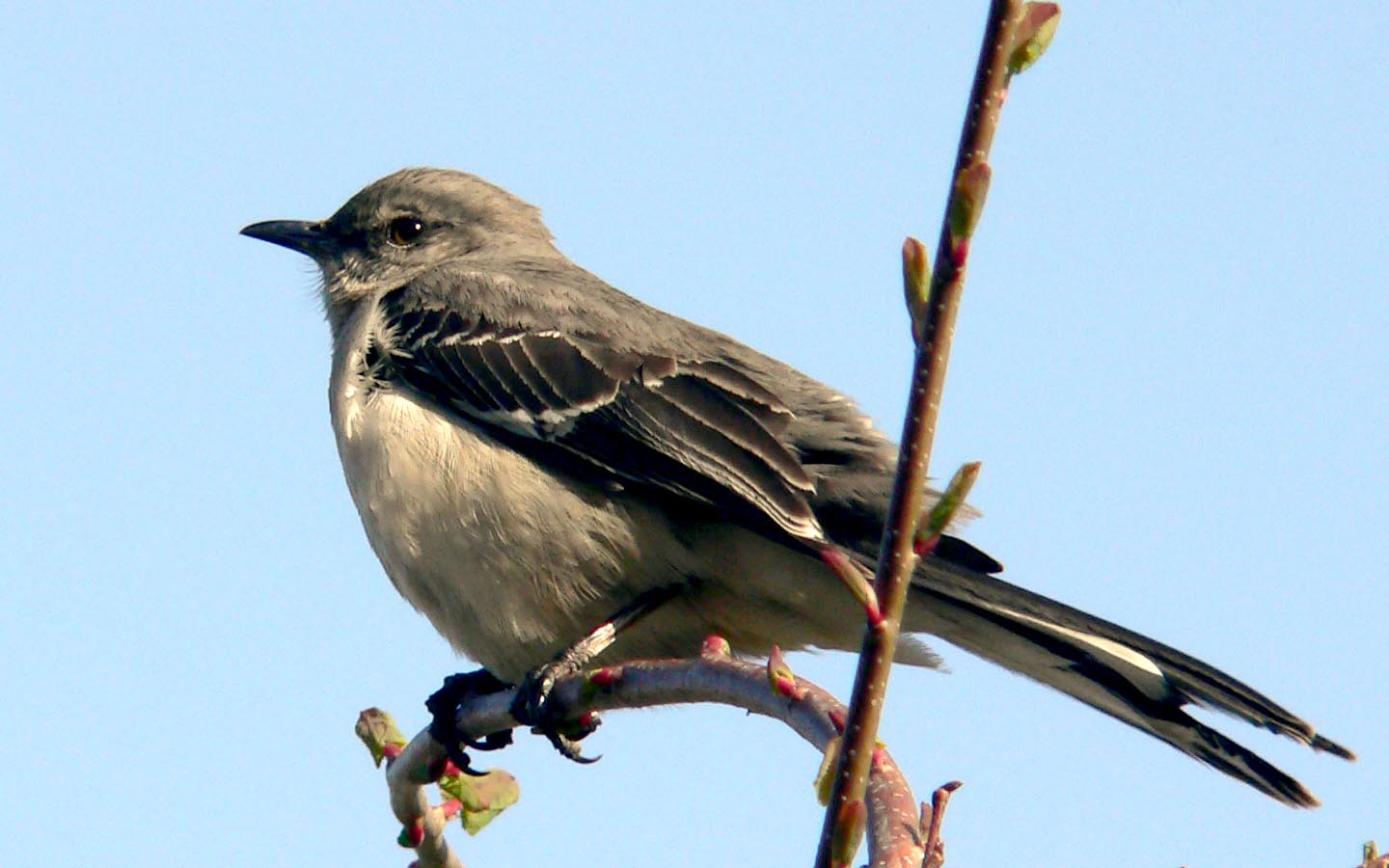 Northern Mockingbird. This is a year-round species in the Arboretum.                                        Photo: Bob Mayer
We circled down Bussey Hill Road to the ponds which were solid ice.  I showed the group last winter's roosting hole for an Eastern Screech-owl, but it was vacant.  As we walked past the hole however, a passerby reported there had been an owl in the hole earlier in the morning.  Arboretum birders, keep on the lookout!  We did find some open water farther along on the way back and there were several species in and around that "seep", including about six of the more than 30 Mourning Doves we admired: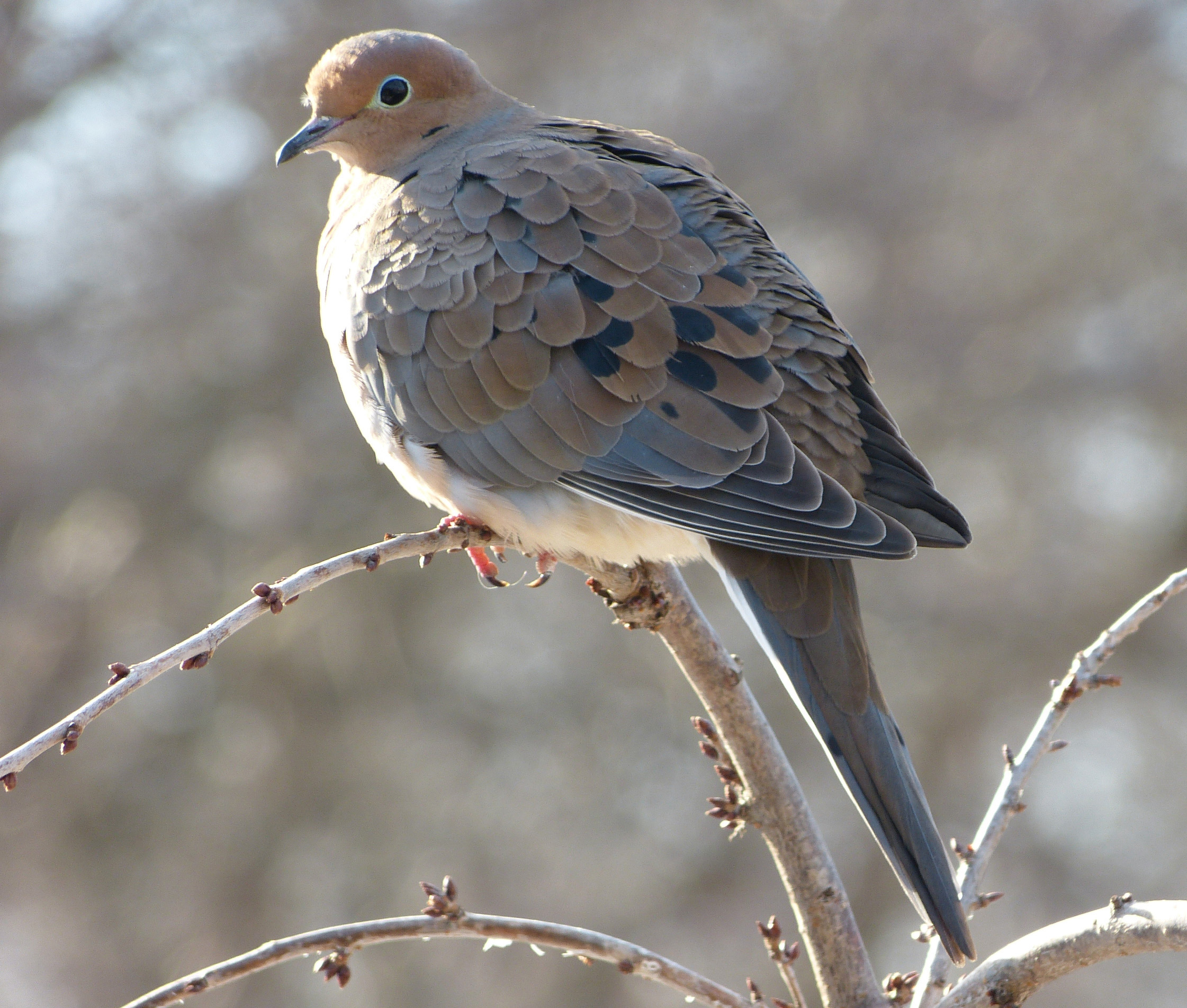 Mourning Dove, another year-round local bird.                                                                                    Photo: Bob Mayer
We finished up the walk studying a group of sparrows working the grass along the roadway.  At first these birds were hard to see even though they were only 20 feet or so from the road; they blended in very well in the spotty snow-covered off-brown grass.  Most of the birds were already on our list, but one "little brown job" stood out; plain grayish breast with a single central spot, black tail, prominent rusty cap.  It was our only American Tree Sparrow.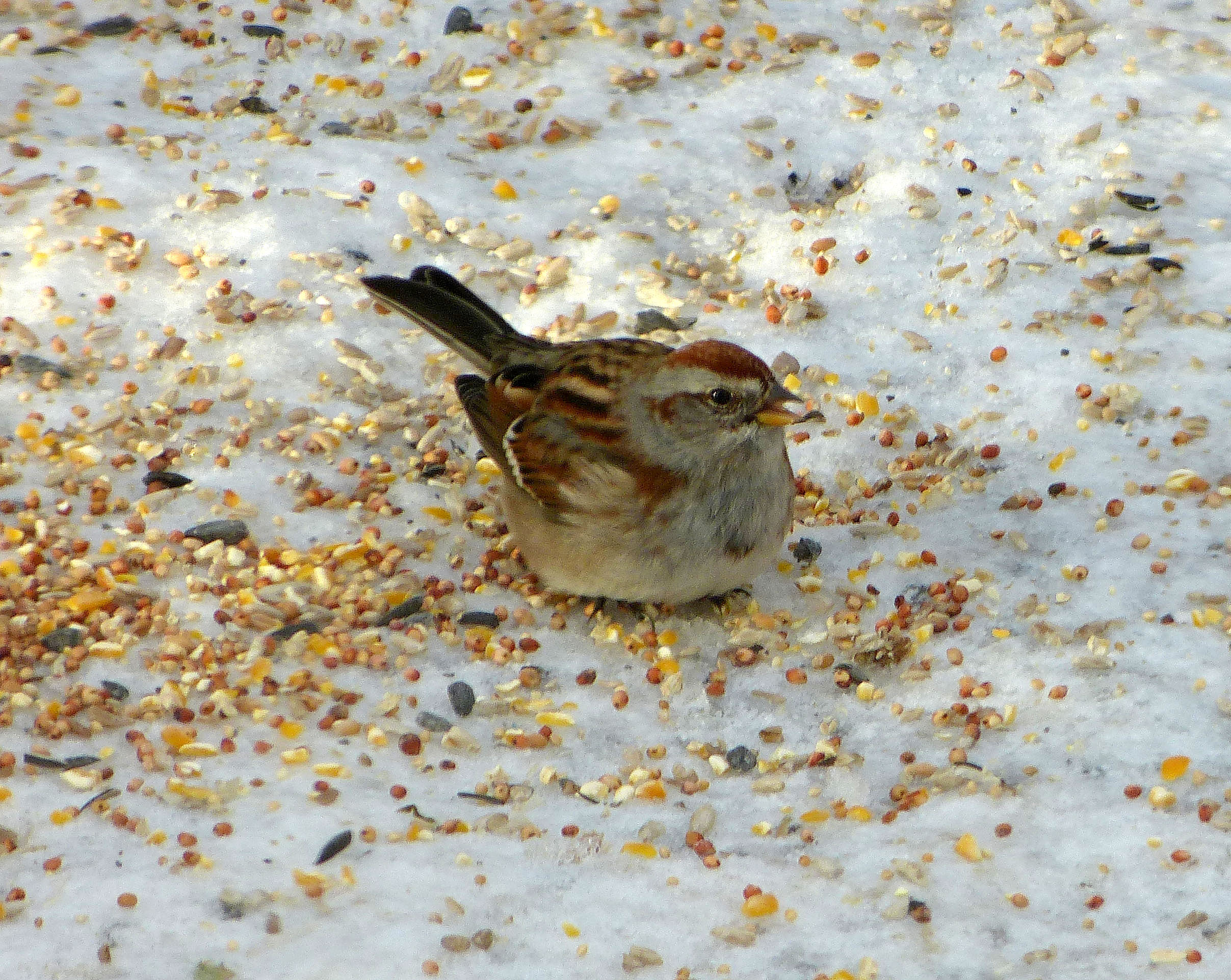 American Tree Sparrow. This is a winter sparrow, departing in the early spring and replaced by a common summer sparrow with a rusty cap- the Chipping Sparrow.                                                      Photo: Bob Mayer
We ended up with exactly the same number of bird species as there were people in our hardy group. Here is the list:
Arnold Arboretum, Suffolk, US-MA
Jan 11, 2015 9:00 AM – 10:30 AM
Protocol: Traveling
2.0 mile(s)
Comments:     16-20, sunny
20 species
Red-tailed Hawk  1
Herring Gull  6
Mourning Dove  30
Downy Woodpecker  1
Northern Flicker  1
Blue Jay  4
Black-capped Chickadee  2
Tufted Titmouse  1
White-breasted Nuthatch  3
American Robin  5
Northern Mockingbird  1
European Starling  8
American Tree Sparrow  1
Song Sparrow  6
White-throated Sparrow  12
Dark-eyed Junco  8
Northern Cardinal  5
House Finch  18
American Goldfinch  6
House Sparrow  4
View this checklist online at http://ebird.org/ebird/view/checklist?subID=S21296939
This report was generated automatically by eBird v3 (http://ebird.org)
As the trip ended I mentioned that there was a very rare bird in a locale less than a mile from the Arboretum.  Some birders already knew about the Black-backed Woodpecker in Forest Hills Cemetery.  First found by Paul Peterson, a famous local birder, he posted the bird on January 6th.  There has been only a dozen reports of this species in the entire state in the last 40 years, and only four since 2000!  Dozens of birders looked for it through the week, without success.  On Friday morning however, another expert birder re-found it.  I headed to the cemetery that afternoon and joined more than 20 birders searching in vain for the bird; several had been there for more than two hours!  I left and went to the Arboretum to fill the feeders in preparation for the Saturday walk.  At about 3:30 PM I returned and found a very excited crowd getting excellent views of the target bird. Here is a photo of the woodpecker, marred by low light as it was taken late in the day: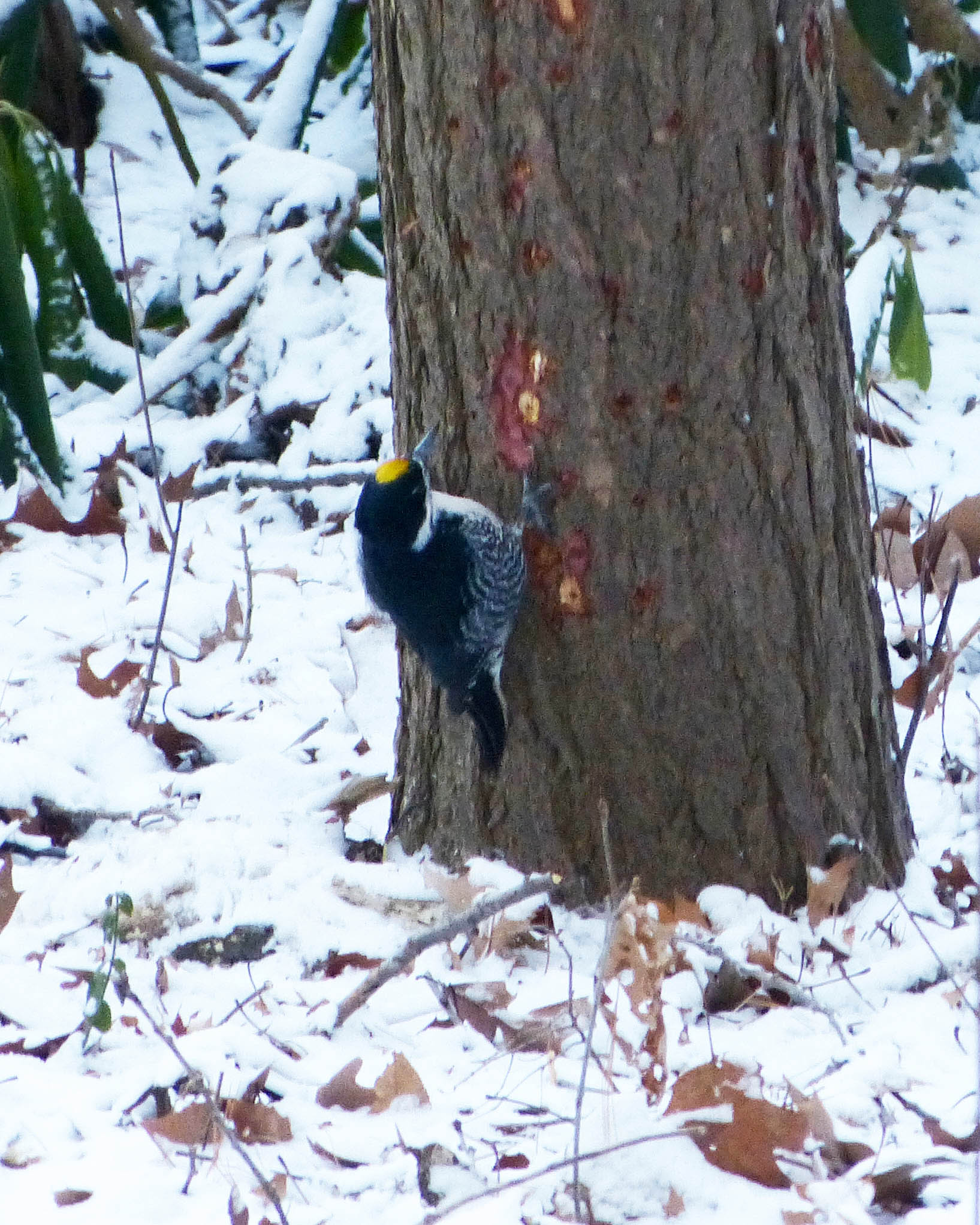 Black-backed Woodpecker, male.  Note the completely black back and the yellow, rather than red, topknot.                                                                                                                                                          Photo: Bob Mayer
Someone from the Arboretum walk group joined me to try for this bird at the cemetery.  To our delight, when we arrived there were several birders watching the woodpecker.  Experts on this species (seen rarely high in the mountains of New Hampshire, and uncommonly in the boreal and coniferous forests of Canada) predict that this bird may remain for weeks. He has found a grove of dying hemlocks riddled by insects, just the thing for a hungry woodpecker!  The local list-servers, Massbird and BostonBirds, provide directions to the site in the cemetery, just off Magnolia Avenue.
Good luck, and Good Birding!