Birding in the Arnold Arboretum in mid March is an exercise in unchecked optimism, weather denial or just plain madness.  Only a few migratory birds have arrived in Massachusetts by then and most of those are not common at any time in our landscape.  Nonetheless I led a walk this chilly but dry morning and thirteen equally mad people showed up.  We actually had a nice walk and saw most of what is available at this time of year in the Arboretum.  We could have encountered a woodcock or even a killdeer–  but we didn't.  We walked "the pipe" through the wet meadow looking for snipe– but came up empty.  I did have one in the conifer section of the AA three weeks ago though; a great looking bird with a fantastic bill: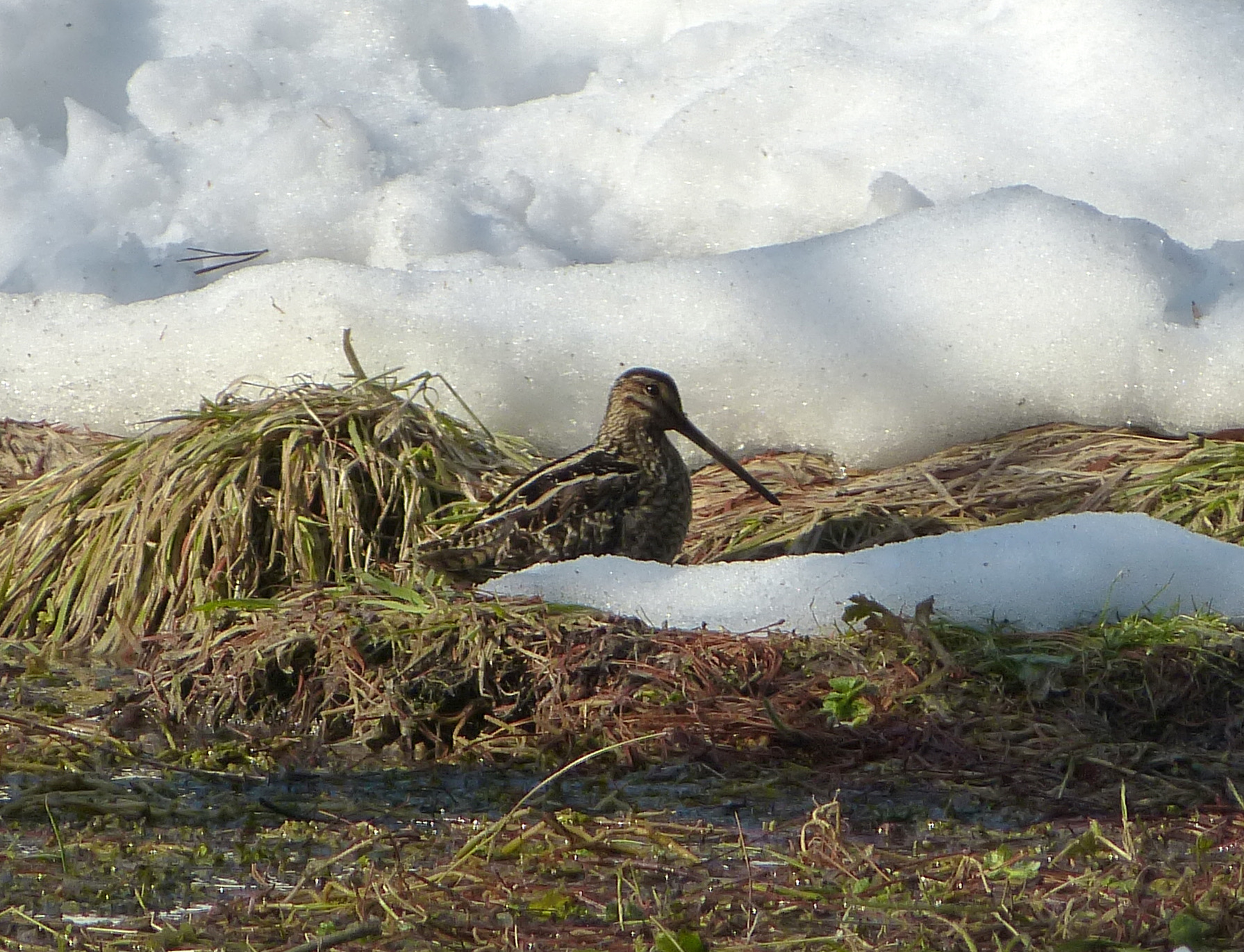 Wilson's Snipe  looking for worms in the seep at the top of Conifer Hill Photo: Bob Mayer
In my promo for today's walk I promised we would see the avian harbinger of spring, and that proved true.  Here is a shot of one of them: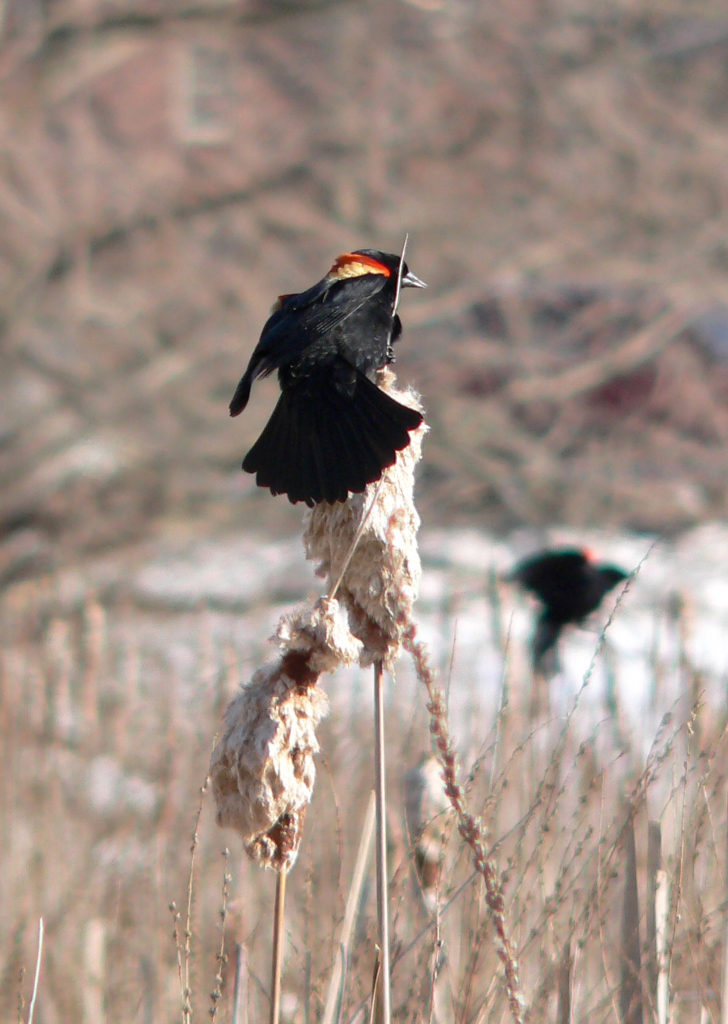 Male Red-winged Blackbird displaying and calling to assert/establish territory. A second one is visible in the background. Photo: Bob Mayer
Only the males arrive early and they have been here since March 1st.  After territory has been established, the females will arrive and sort out who gets who and what.
We of course looked for the Eastern Screech-Owl that I discussed in my last post but it seems to have moved on to another location; perhaps it is seeking a mate elsewhere in the Arboretum.
Although we had no unusual birds, everyone in the group got good looks at the birds we saw. The list included:
Arnold Arboretum Mar 22, 2014 8:00 AM – 9:40 AM
Red-tailed Hawk  1
Herring Gull  1
Mourning Dove  8
Red-bellied Woodpecker  1- heard only
Downy Woodpecker  1- feeder
Blue Jay  3
Black-capped Chickadee  2
Tufted Titmouse  3
American Robin  20
Northern Mockingbird  1
European Starling  5
Song Sparrow  4
White-throated Sparrow  4
Dark-eyed Junco  10
Northern Cardinal  4
Red-winged Blackbird  8
Common Grackle  12
House Finch  2
American Goldfinch  2 – feeder
House Sparrow  4
View this checklist online at http://ebird.org/ebird/view/checklist?subID=S17547248
This report was generated automatically by eBird v3
My next Arboretum bird walk will be Saturday April 26th beginning at 8 AM at the Main Gate off the Arborway.  Further directions, a map and a downloadable check list can be found on the website.
Good Birding!