The weather was quite different for the two spring bird walks I led this weekend; Saturday was sunny and quite warm but Sunday was cool and cloudy with occasional rain.  The attendance was reflected by the weather; 46 on Saturday and 17 on Sunday.  The locale for the first was the Arnold Arboretum, designed by Fredrick Law Olmsted, and the second was another Olmsted creation farther down the Emerald Necklace at Leverett Pond and Olmsted Park.
In the Arboretum we ticked off some resident birds as our large group moved down Meadow Road; Song Sparrow, Red-belied Woodpecker, Common Grackle and American Goldfinch.  Here are some images of them: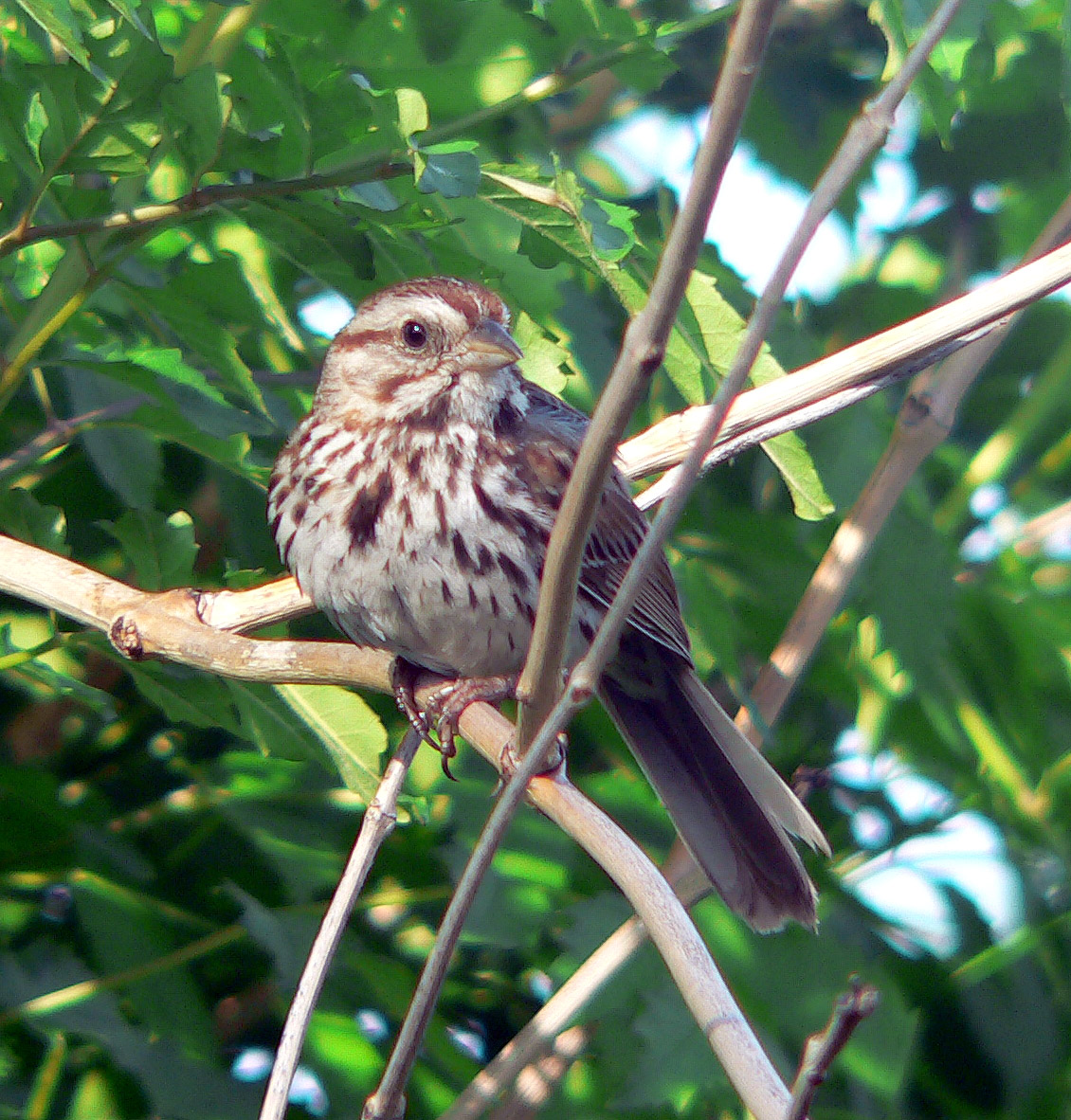 A resident Song Sparrow, showing it's streaky breast coalescing into a central spot.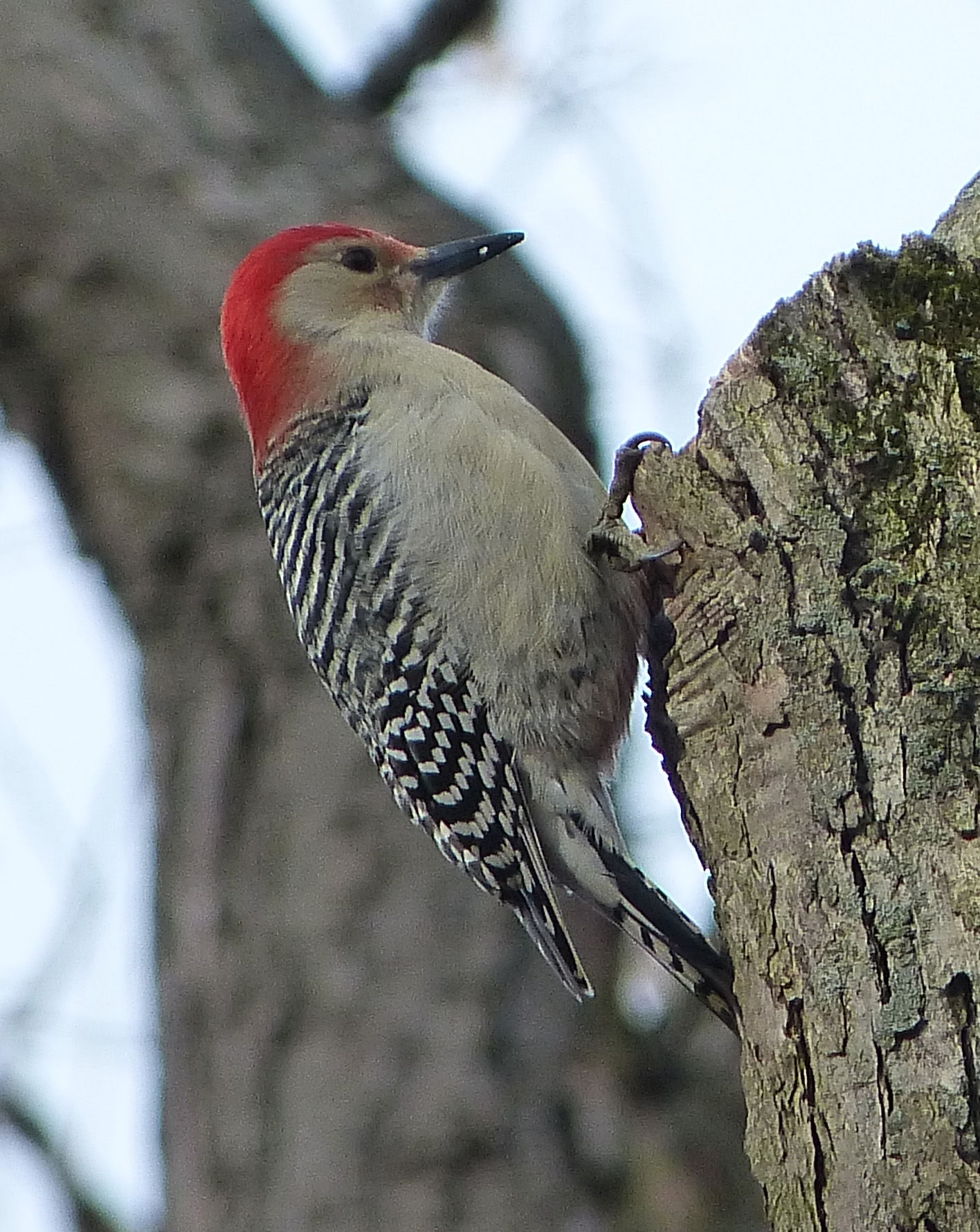 Male Red-bellied Woodpecker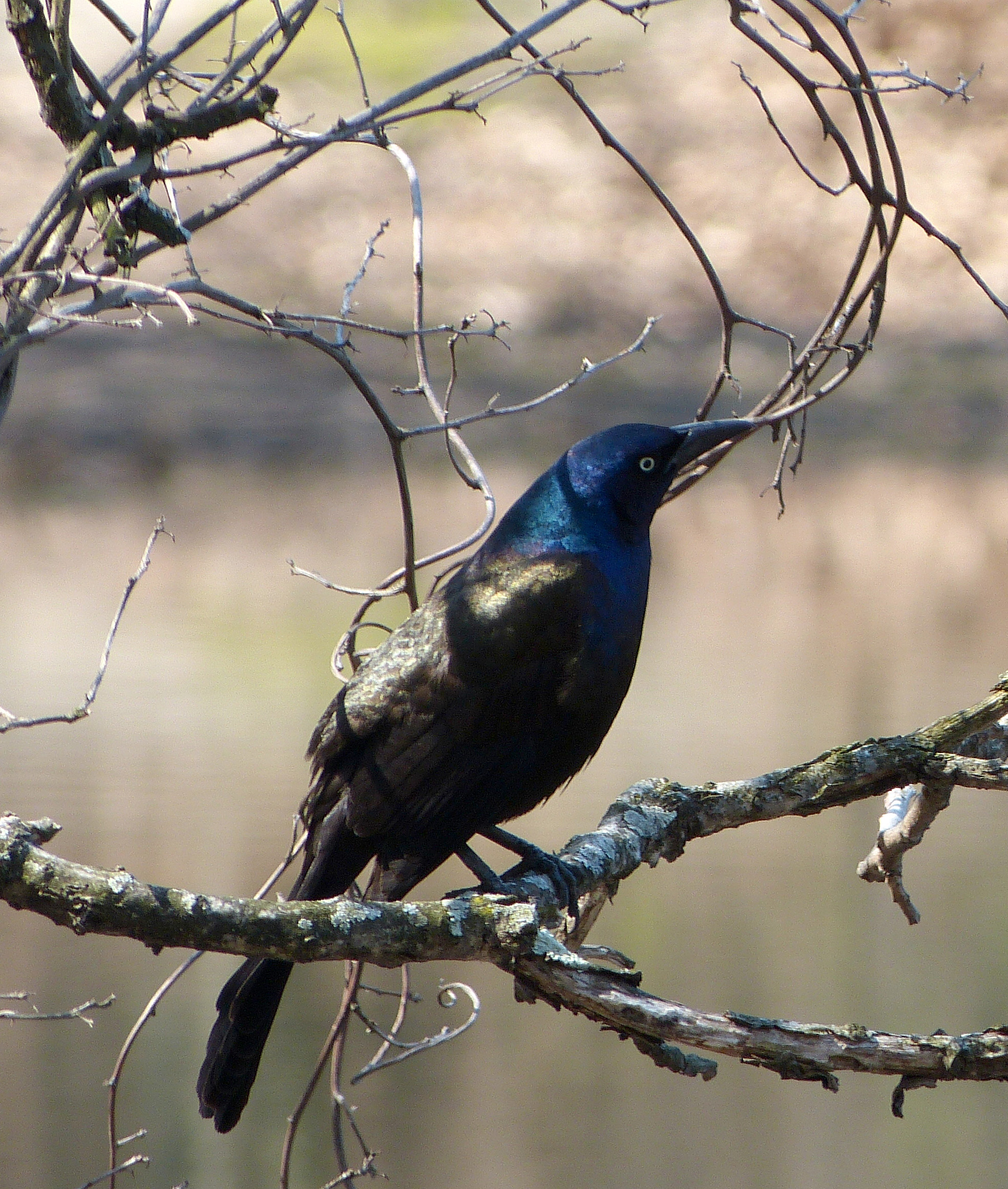 The Common Grackle in some light is solid black, but can show a beautiful iridescence on the head setting off its white eyes.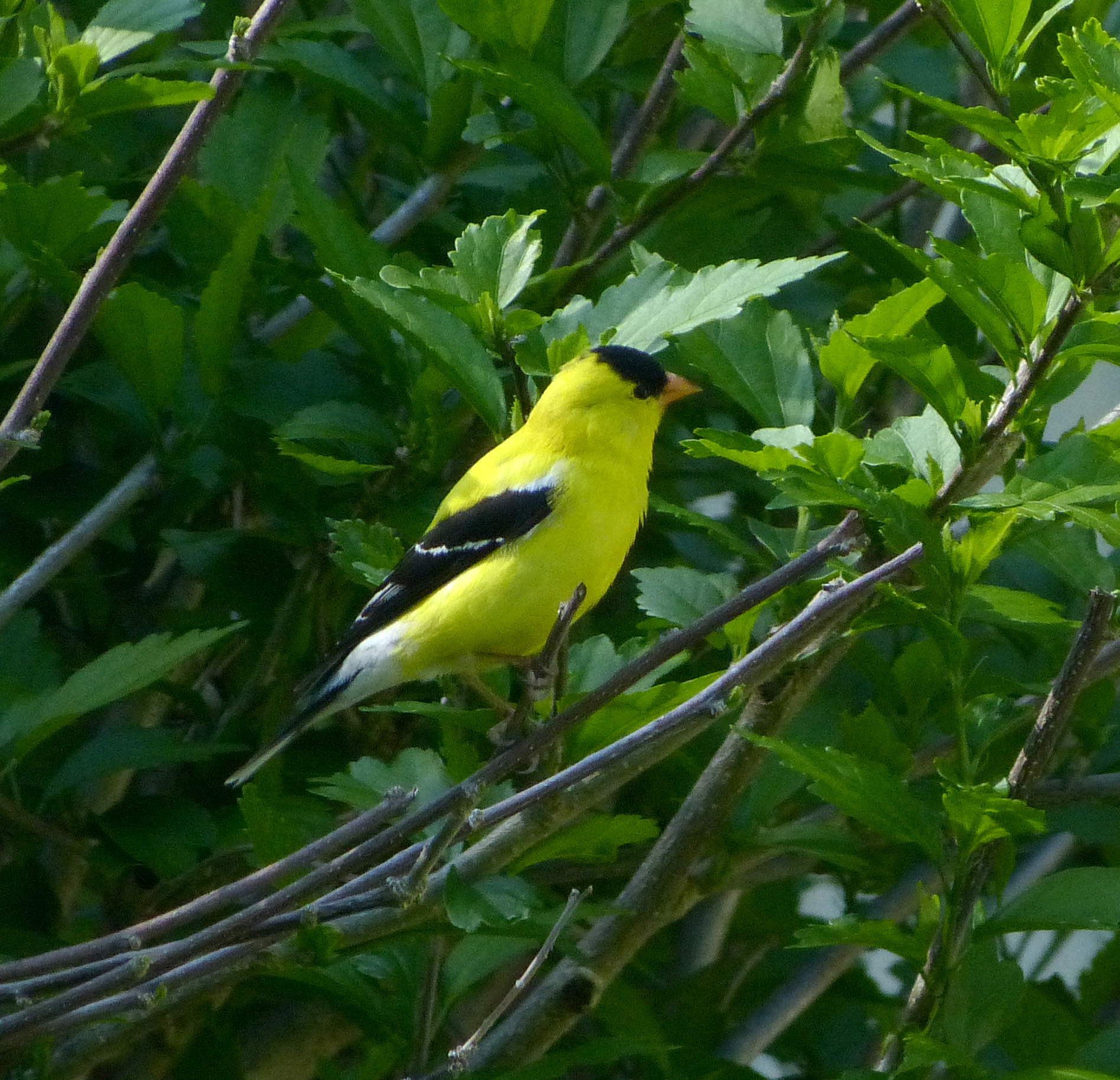 American Goldfinches are rather drab in winter but the spring plumage is striking, often looking like at first glance.
My co-leader Brendan pointed out a Tree Swallow peeking out of a nest box that he had erected just a few weeks earlier: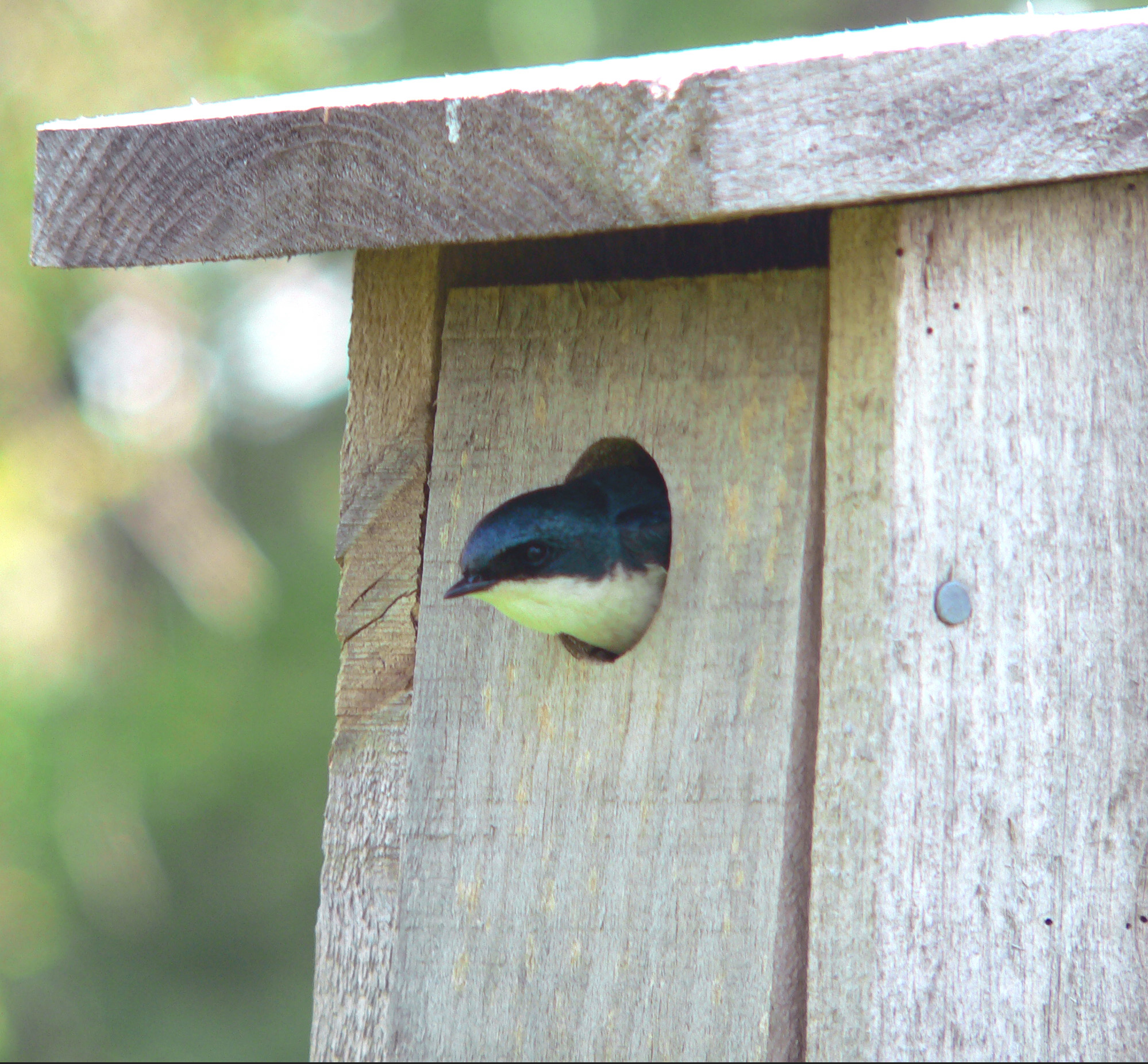 Male Tree Swallow inspecting a nest site.
We proceeded to the ponds where there wasn't much action bird wise, but we did enjoy a few turtles: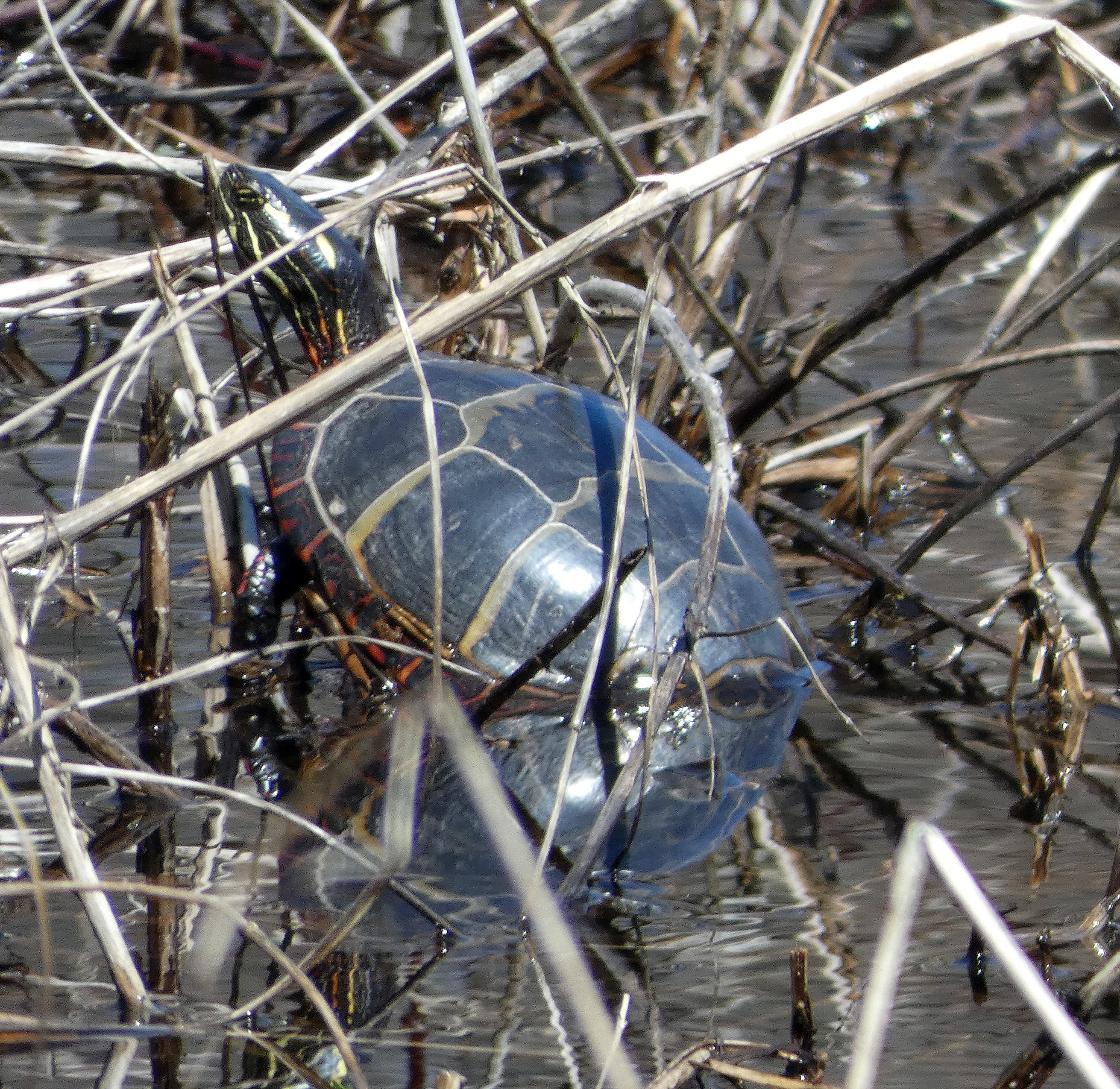 This Eastern Painted Turtle emerged from the mud beneath Faxon Pond just a few weeks ago.
The three ponds created by Olmsted are the only major water feature in the park and can attract some unusual fauna; this mink was spotted there about a month ago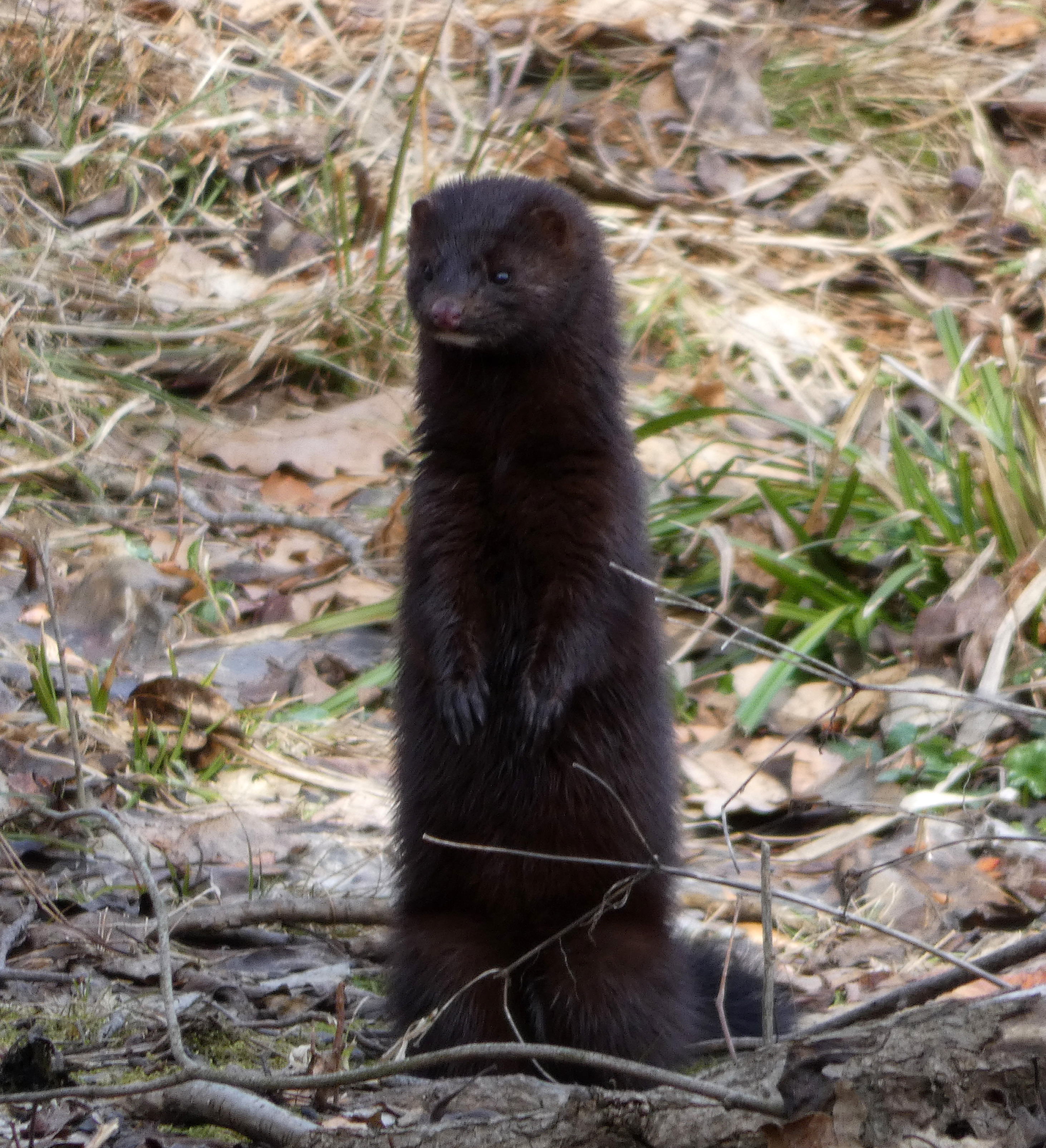 American Mink. This member of the weasel family is uncommon away from rivers or other large bodies of water.
We ascended to the top of Bussey Hill where we spent some time trying to tease out the calls of two recent spring arrivals; Chipping Sparrow:
and and Pine Warbler:
Sound recordings courtesy of Lang Elliott NatureSound Studio
We knew chippers were present because we saw them: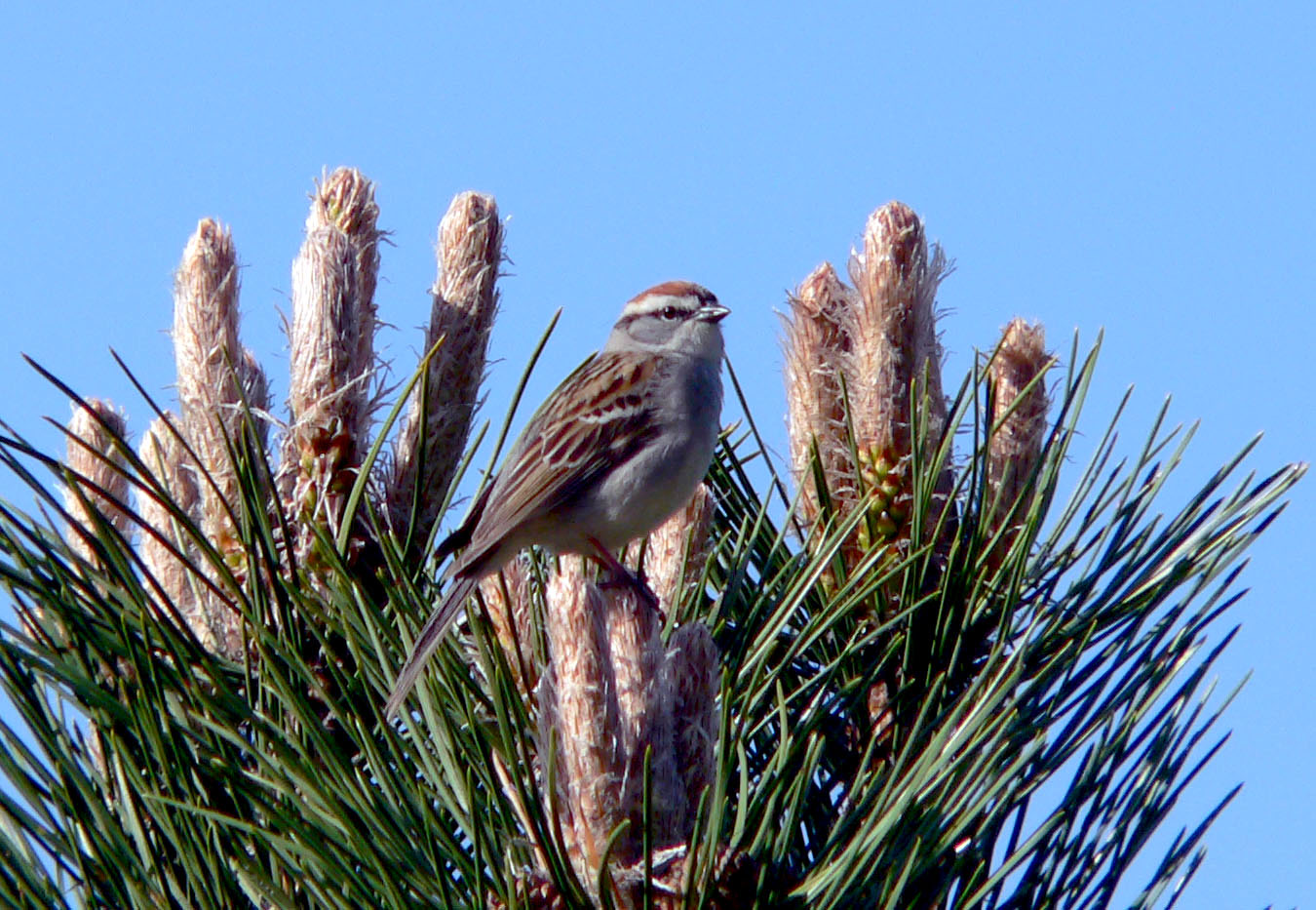 Chipping Sparrow, a small sparrow with a plain whitish breast and a crisp rusty cap and eyeline is an early spring arrival.
I played a recording of the Pine Warbler and there was a response but at first I couldn't be sure which species was responding.  A few minutes later as we moved along I did hear the shorter, softer trill of the warbler although we never saw it; too bad as it's good looking: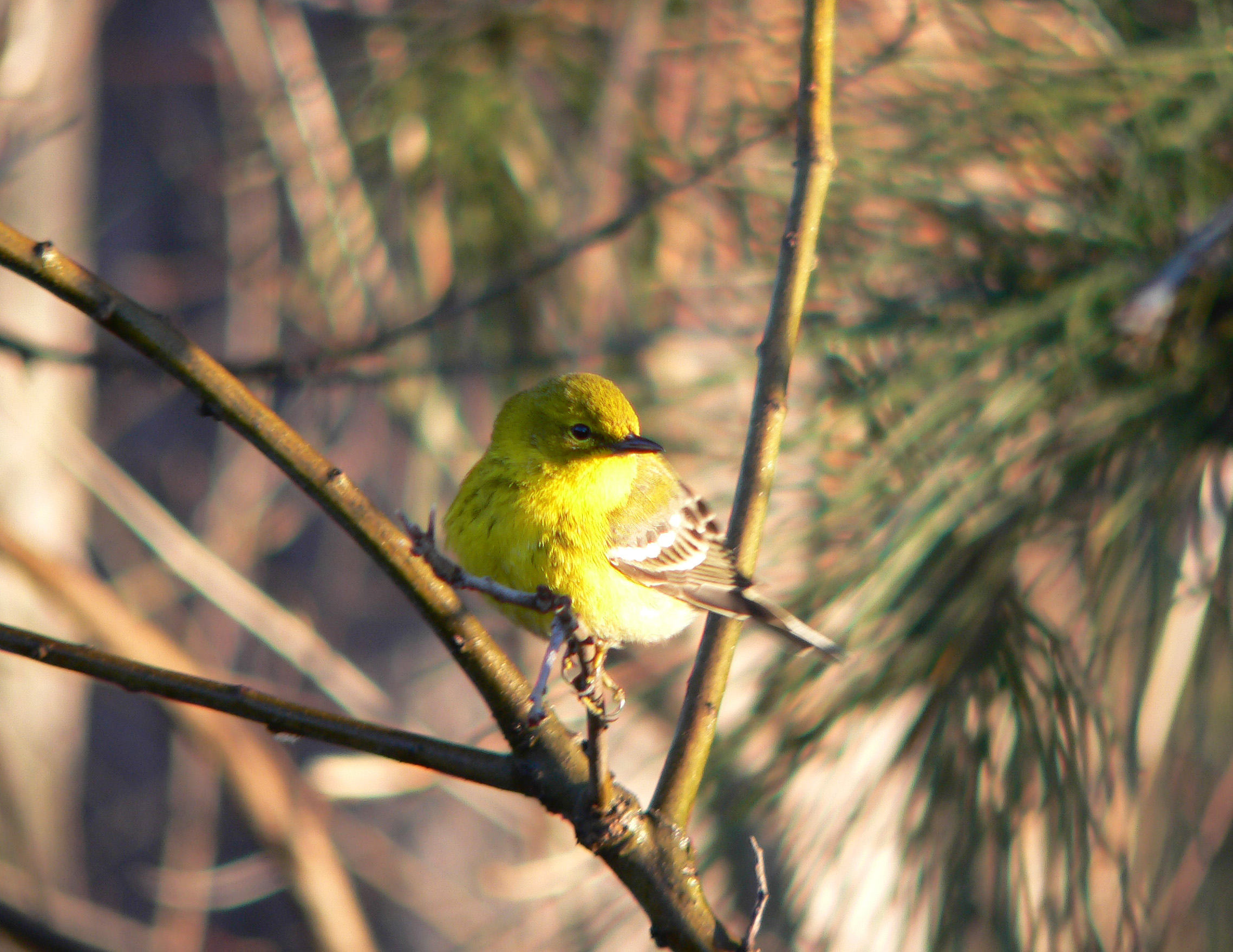 Male Pine Warbler
As we began our return route I spied a Hermit Thrush which briefly teed up on a small tree allowing folks near me to see it.  For those who missed it here is an image of this lovely early spring thrush as it passes through the area heading for breeding territory farther north: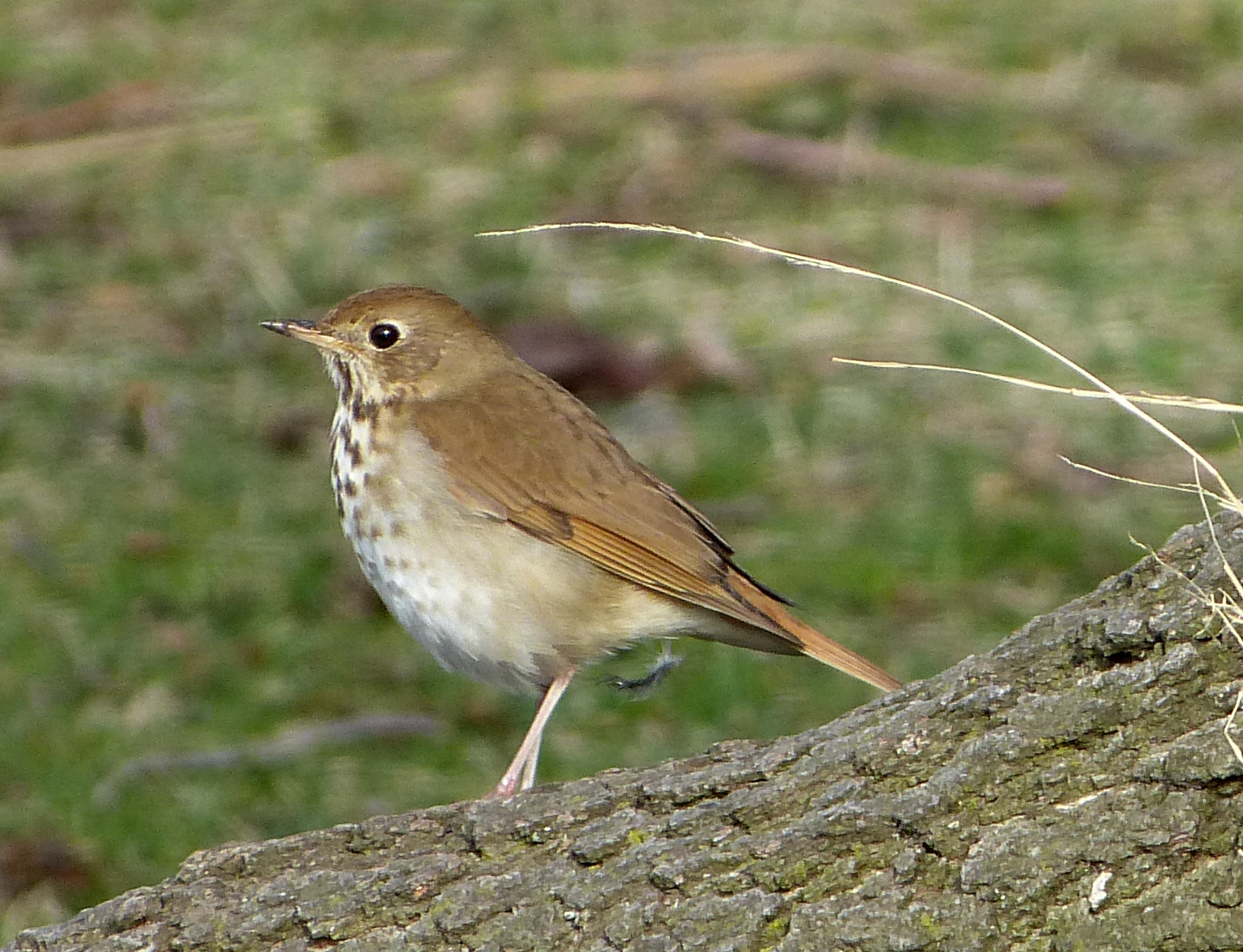 Hermit Thrush showing a white eye ring, brown back and rust colored tail which it often bobs up and down.
We stopped at an area on the Bussey Hill slope where trillum bloom every spring; I thought it was too early but some were just opening from the bud stage: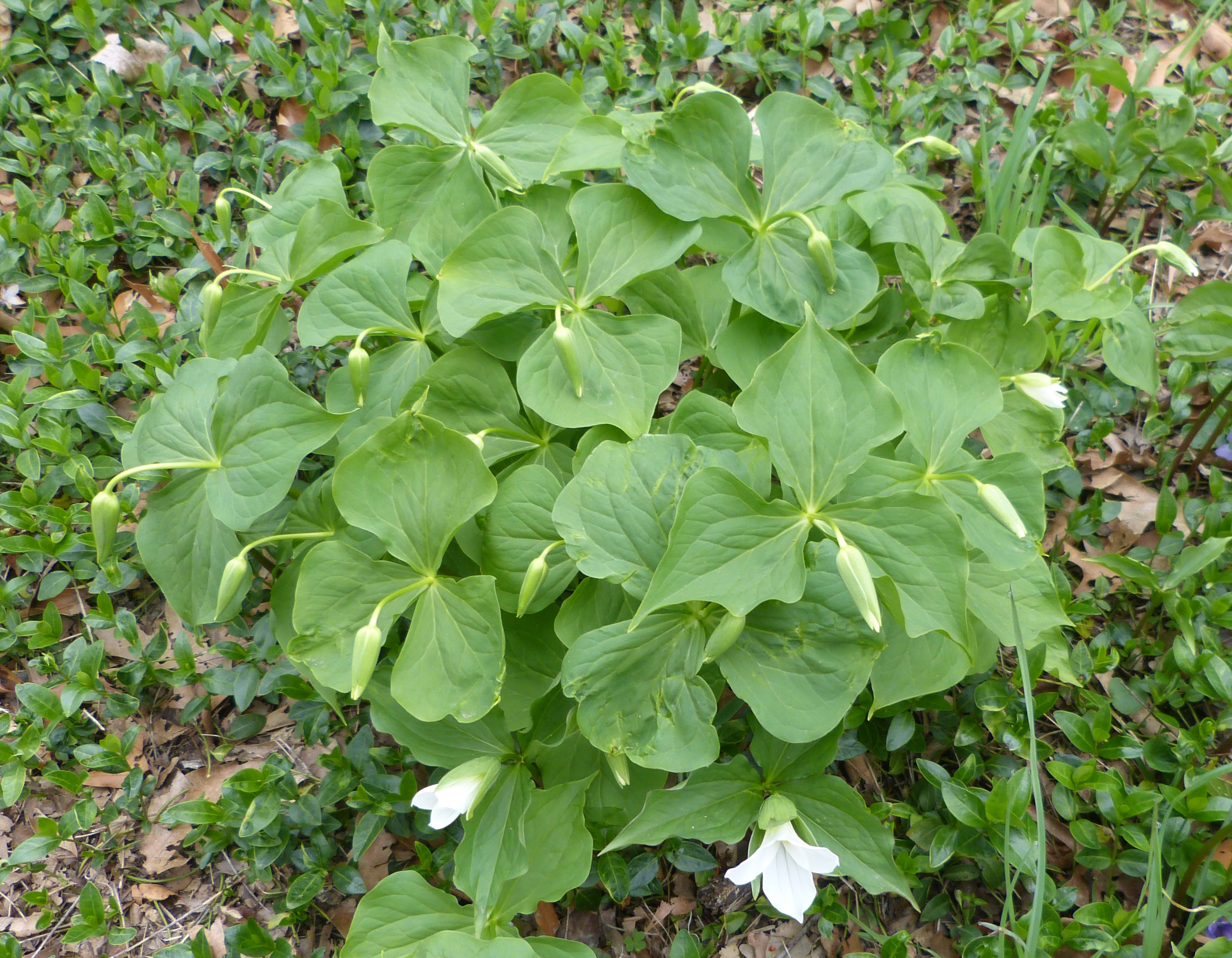 Large-flowered Trillium Trillium grandiflorum
As we ended the Arboretum walk a keen eyed member spotted a robin on a nest;  breeding season has begun!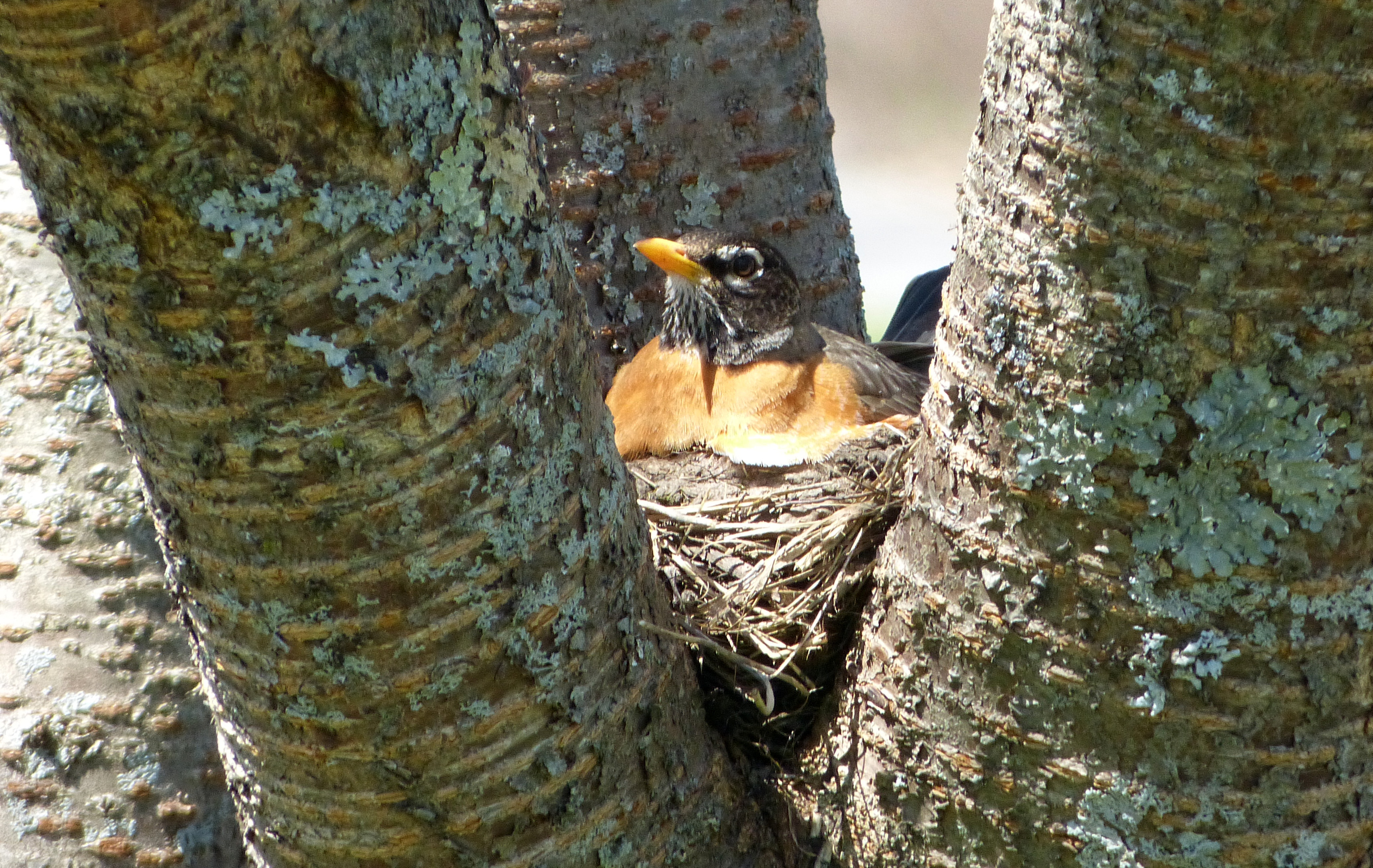 Here is the list of birds we tallied on Saturday:
Arnold Arboretum, Suffolk, Massachusetts, US
Apr 28, 2018 8:00 AM – 10:00 AM
Comments:     55-62. sunny.   BBC walk, 45 participants
20 species
Mallard: 2
Turkey Vulture: 1
Herring Gull: 2
Rock Pigeon (Feral Pigeon): 1
Mourning Dove: 1
Red-bellied Woodpecker: 3
Northern Flicker: 2
Blue Jay: 1
Tree Swallow: 1
Hermit Thrush: 1
American Robin : 0
Pine Warbler  : d
Chipping Sparrow: 4
Song Sparrow: 3
Northern Cardinal: 1
Red-winged Blackbird: 2
Brown-headed Cowbird: 5
Common Grackle : 5
American Goldfinch: 2
House Sparrow: 3
View this checklist online at https://ebird.org/view/checklist/S45021462
THE SECOND WALK
When I first looked at my favorite weather app on Sunday at 6:30 AM rain was predicted for 9:45.  Perfect; the walk would just be ending!  But by the time I got to our starting point in Brookline the update showed rain starting at 8 AM, just when we began.  It was right, but fortunately the rain never became too heavy so those that showed up went home a bit cold but not too wet.  The target bird for the Leverett Pond walk was the first one we saw: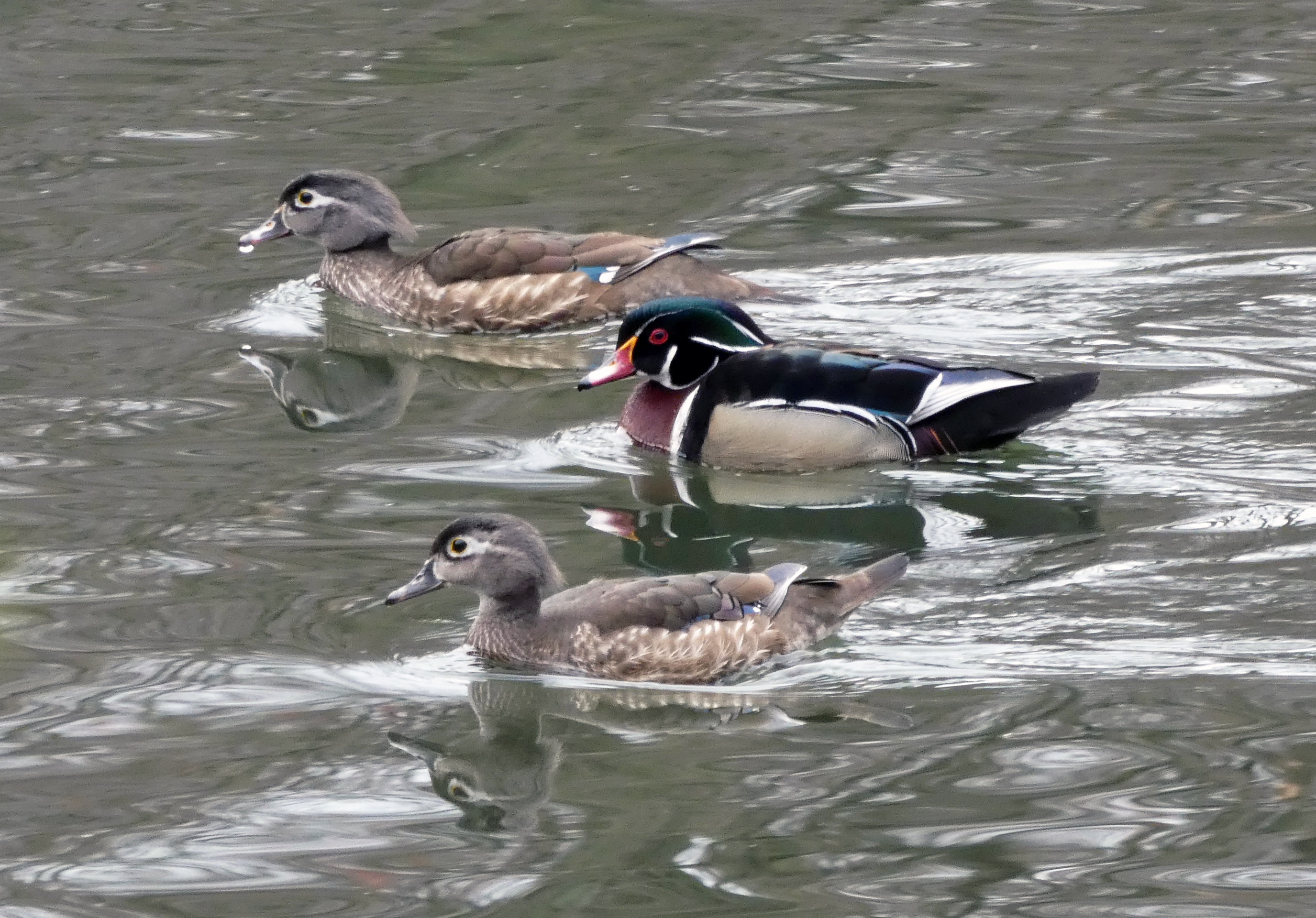 Two female and a male Wood Duck.
The interesting history of these colorful ducks in the Emerald Necklace was discussed in a previous blog.  Chances that these ducks will once again breed on this or another close by pond are excellent!  We headed up along the Boston side of this pond that straddles the Boston/Brookline boundary and heard a Red-bellied Woodpecker:
Sound recording courtesy of Lang Elliott NatureSound Studio
This call is so distinctive that you don't have to see the bird for a positive identification; nothing else sounds like it.  We also picked up another woodpecker species nearby:
Male Downy Woodpecker. This is the smallest and commonest woodpecker in this area.
When the rain lessened we decided to go all the way up through Olmsted Park to Ward's Pond.  The pond was empty of waterfowl, as it often is, but there was some activity in the nearby trees.  Only a few saw the Eastern Phoebe before it flew off: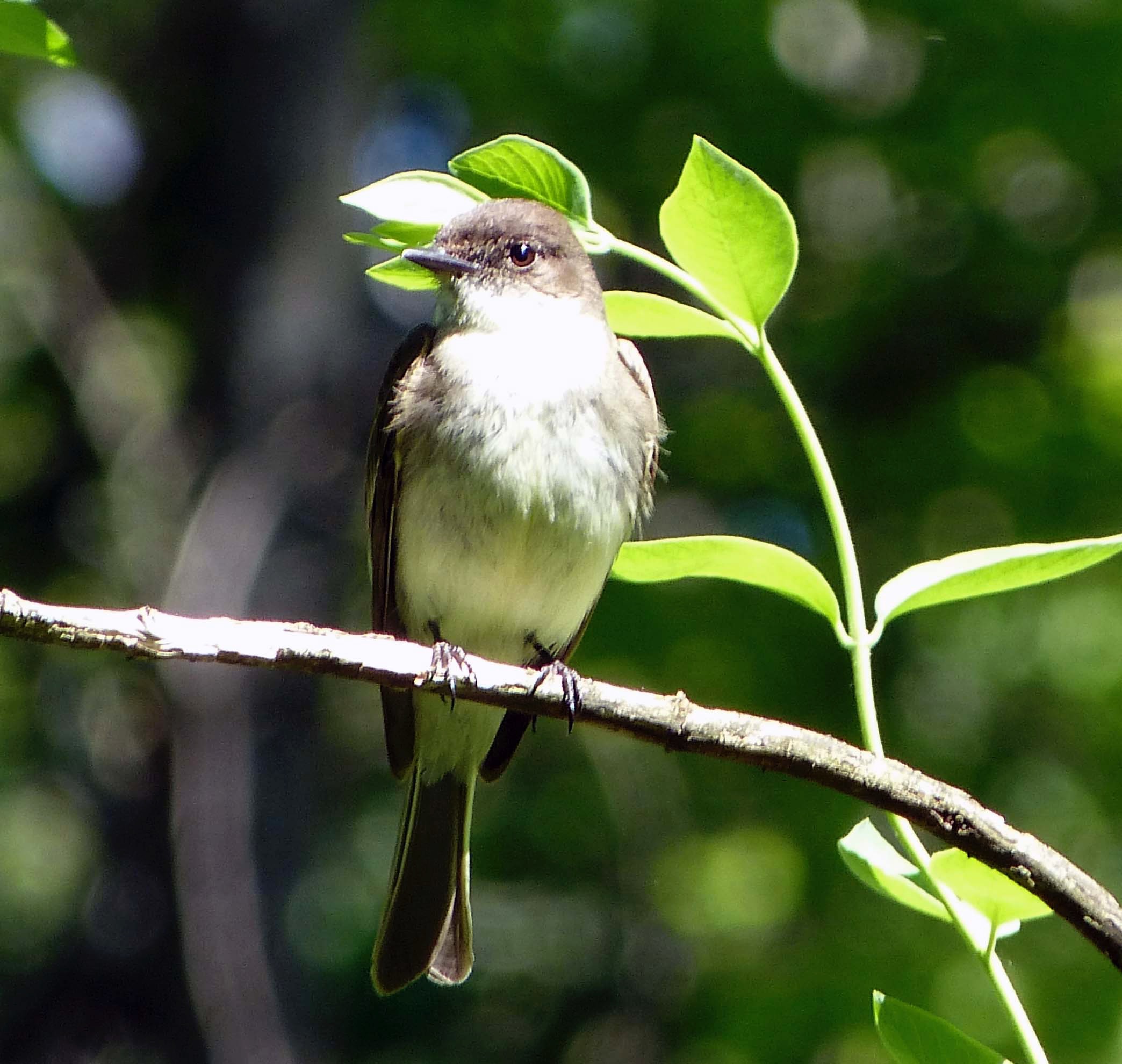 Eastern Phoebe is a spring species that bobs or pumps it's tail, as do Palm Warbler and Hermit Thrush. It is a good field sign for quick identification.
We also heard and saw several Tufted Titmouses (yes that's the official ornithological plural):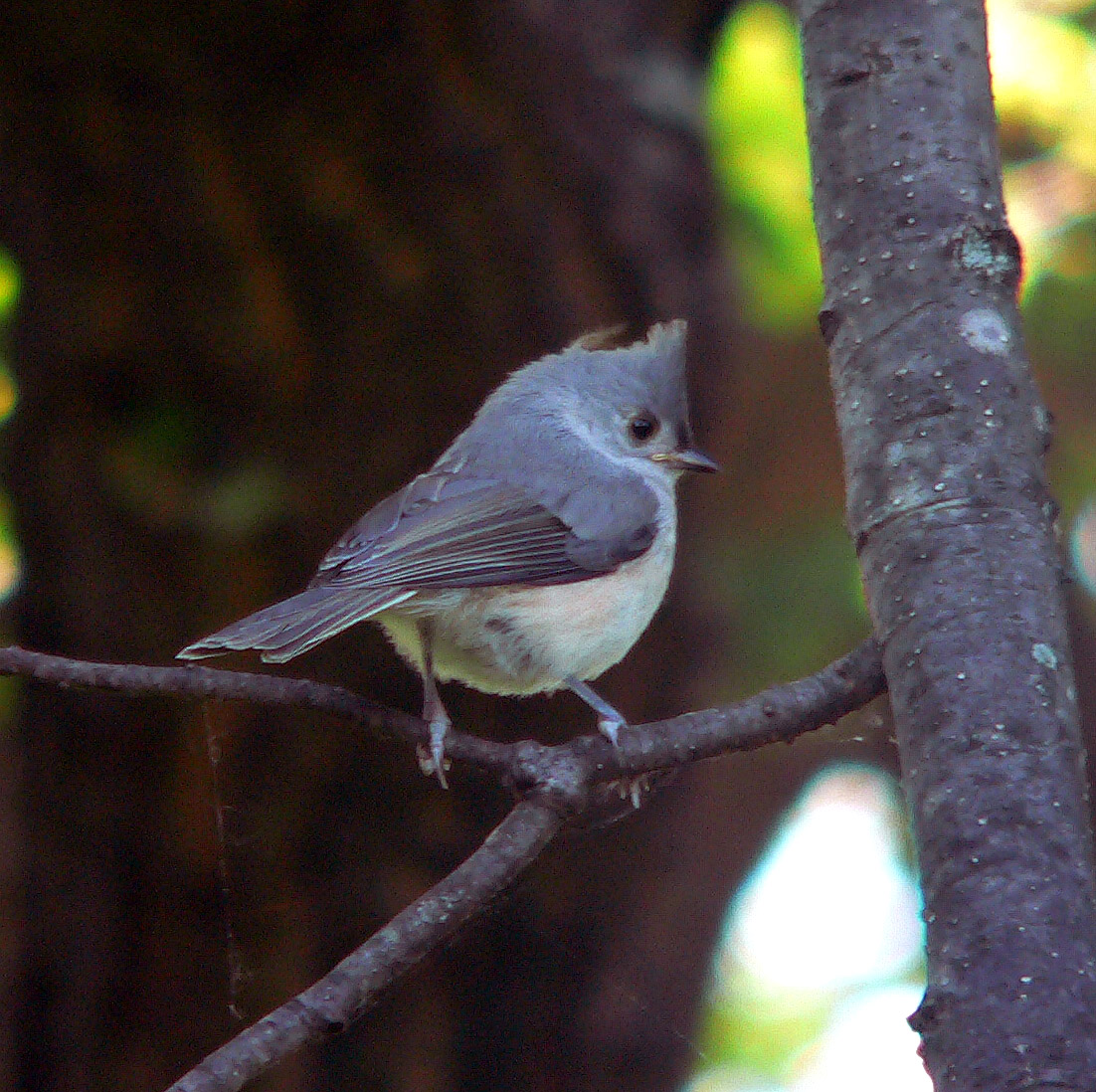 The Tufted Titmouse, a year around bird in Boston, always reminds me of a miniature cardinal captured on black-and-white film.
The rain began in earnest again so we headed back to our cars.  On the way we had a nice look at an adult Double-crested Cormorant on the pond: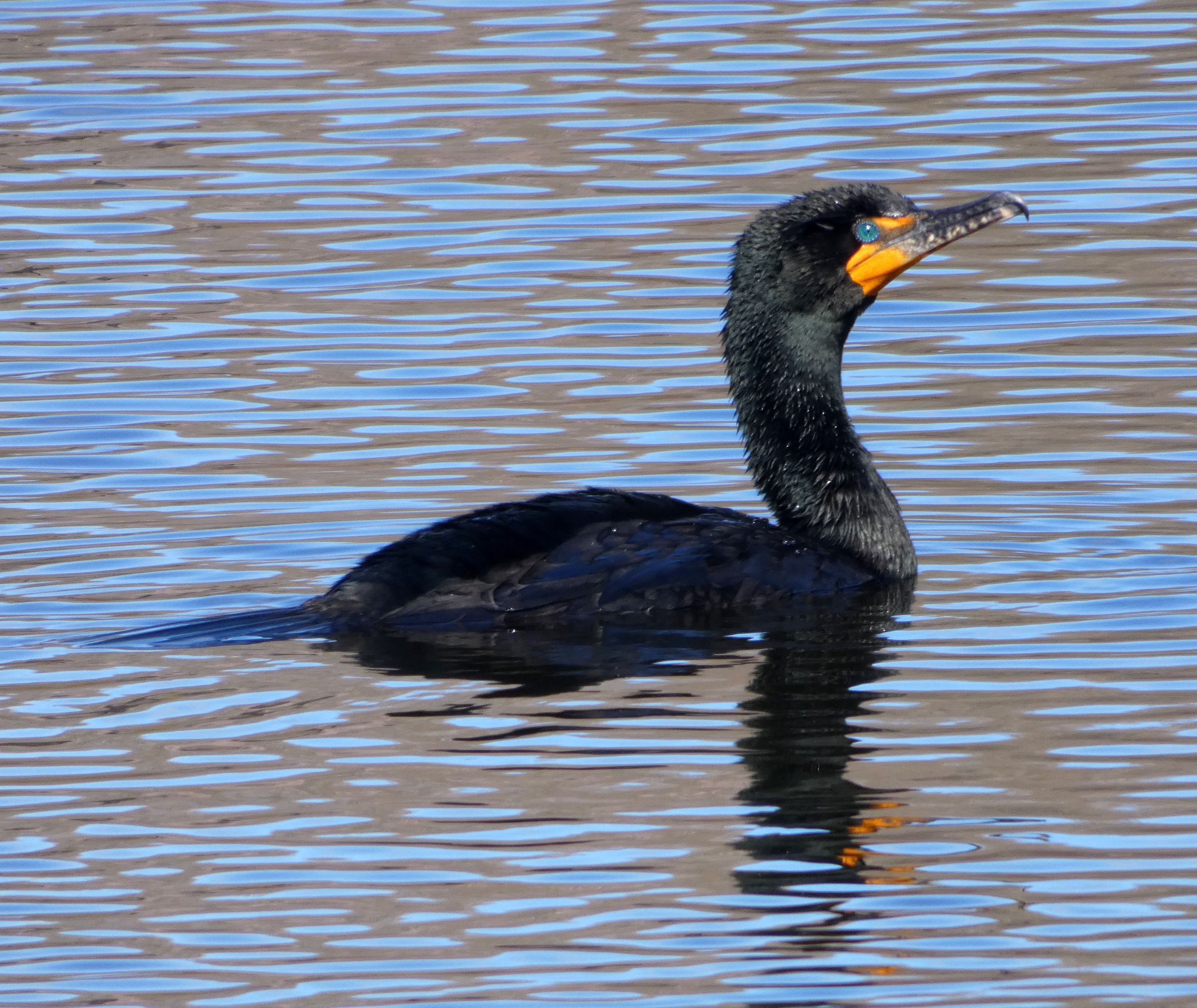 Adult Double-crested Cormorant. Related to pelicans, these birds have a reptilian appearance.
I was about to declare that we would have to end the walk without seeing a migrant warbler when someone noticed some small birds moving about high in the trees against the gray sky. Yellow-rumped Warblers!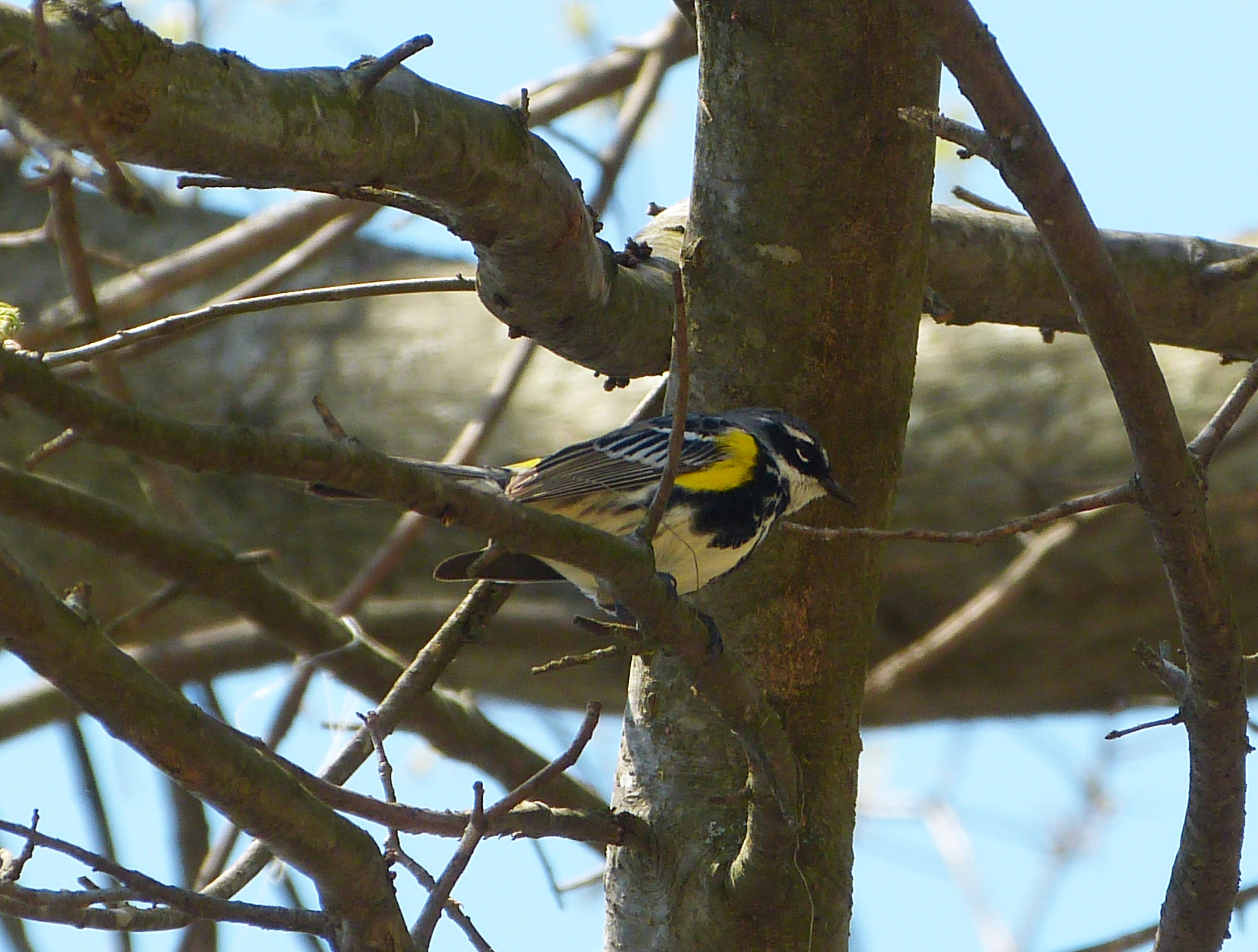 Male Yellow-rumped Warbler. You have to look closely in this image to see the yellow patch above the tail, which defines it's name and also it's nickname- Butterbutt
This is far and away the commonest warbler seen early in the spring migration.  They do not breed in Boston; most are passing through to northern New England and Canada but some breed in western Massachusetts.
Here is our list for Sundays walk:
Olmsted Park–Leverett Pond, Suffolk/Norfolk Counties, Massachusetts
Apr 29, 2018 8:00 AM – 9:30 AM
Comments:     BBC walk 48-50. clouds and rain,  17 participants
19 species
Canada Goose  25
Wood Duck  4
Mallard  6
Double-crested Cormorant  1
Red-tailed Hawk  2
Herring Gull  1
Red-bellied Woodpecker  2
Downy Woodpecker  1
Eastern Phoebe  1
Blue Jay  4
Tufted Titmouse  2
American Robin  20
European Starling  4
Yellow-rumped Warbler  6
Song Sparrow  1
Northern Cardinal  1
Red-winged Blackbird  4
Common Grackle  30
House Sparrow  3
View this checklist online at https://ebird.org/view/checklist/S45060984
This report was generated automatically by eBird v3 (http://ebird.org)
Next weekend, weather permitting, I will be leading two walks in the Arnold Arboretum;
Saturday, May 5
Arnold Arboretum, Boston. Morning.
A 90-minute walk suitable for beginners as well as more experienced birders. See the arboretum website http://www.arboretum.harvard.edu for directions or to download a checklist of birds. Meeting location: Peters Hill Gate on Bussey Street 8:00 AM to 9:30 AM
Sunday, May 6
Bussey Brook Meadow, Arnold Arboretum, Boston. Morning.
The Arboretum Park Conservancy and the BBC are sponsoring this 90-minute walk in the Bussey Brook area of the Arboretum. The walk is suitable for beginning birders as well as those more experienced. Meeting location: South Street gate to the Arboretum, on South Street, where there is limited parking. Also accessible from Forest Hills T Station path from Washington Street 8:00 AM to 9:30 AM
Finally, On May 12th I will be doing the 2018 Bird-a-thon to support nature programs at Mass Audubon's Boston Nature Center. To learn more about that, and to support me and my team  you can click here.
Thanks, and Good Birding!