Late Fall Walk in the Arnold Arboretum
Seven birders joined me on this lovely but chilly morning for a walk to the ponds and back through the Leventritt Shrub and Vine Garden, searching for late migrants and resident bird species.  Not many migrants spotted, but we did see a couple of nice birds and fully enjoyed the great weather.
One of our group, using a 600mm long lens as both camera and spotting scope,  located a woodpecker he couldn't identify.  After some study we determined it to be a young Yellow-bellied Sapsucker (YBSA).  Toward the end of the walk this same man found and photographed yet another juvenile YBSA; as it was more than a half mile from our first sighting it was likely a different bird (sibling?)  This was our only woodpecker on the walk, but a nice one!  Here are images of a young, not so fancy sapsucker, and the beautiful adult of the species: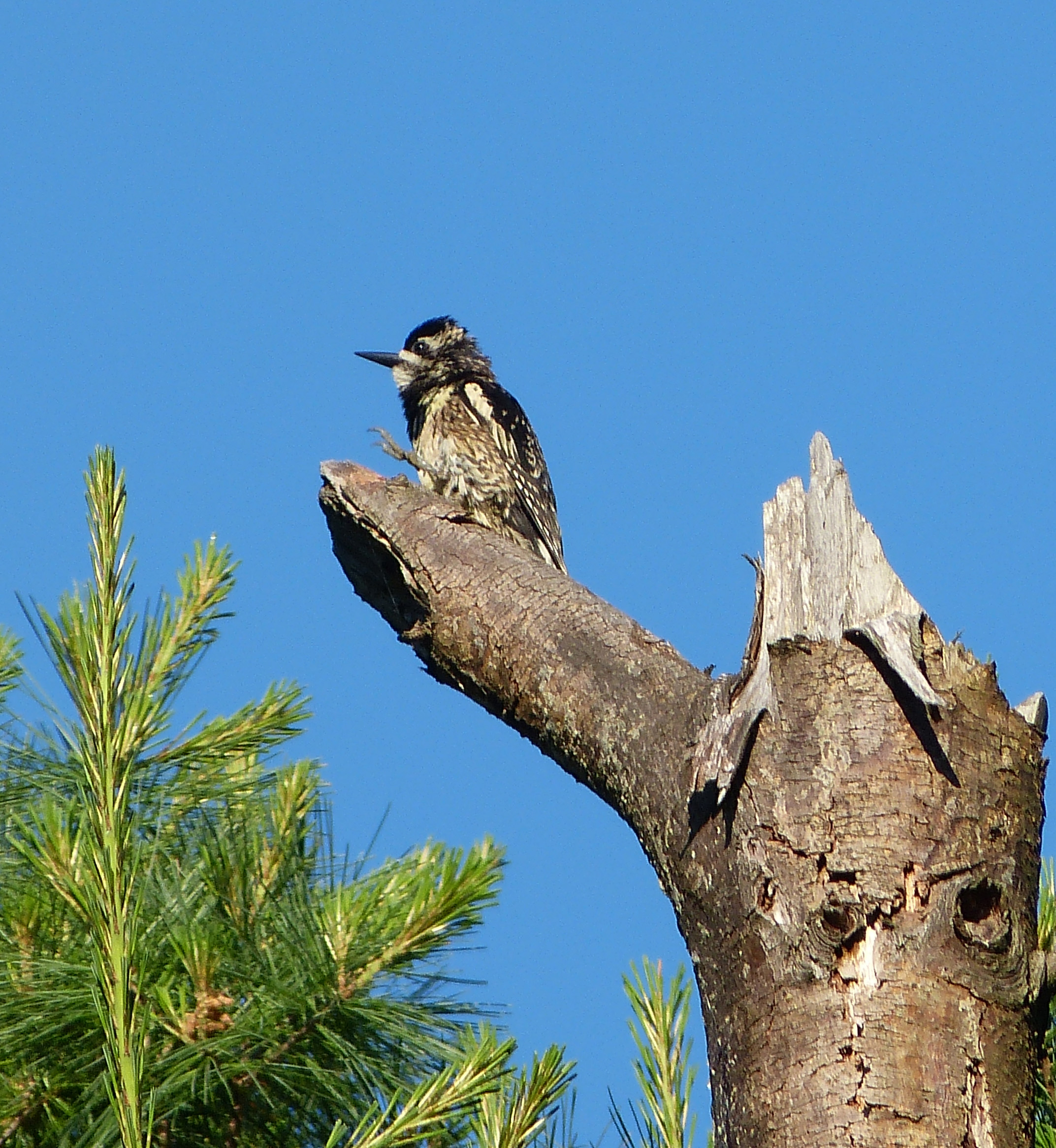 Juvenile Yellow-bellied Sapsucker on a snag. The white band on the wing is distinctive, although the bright red patterning on the adult has not yet developed.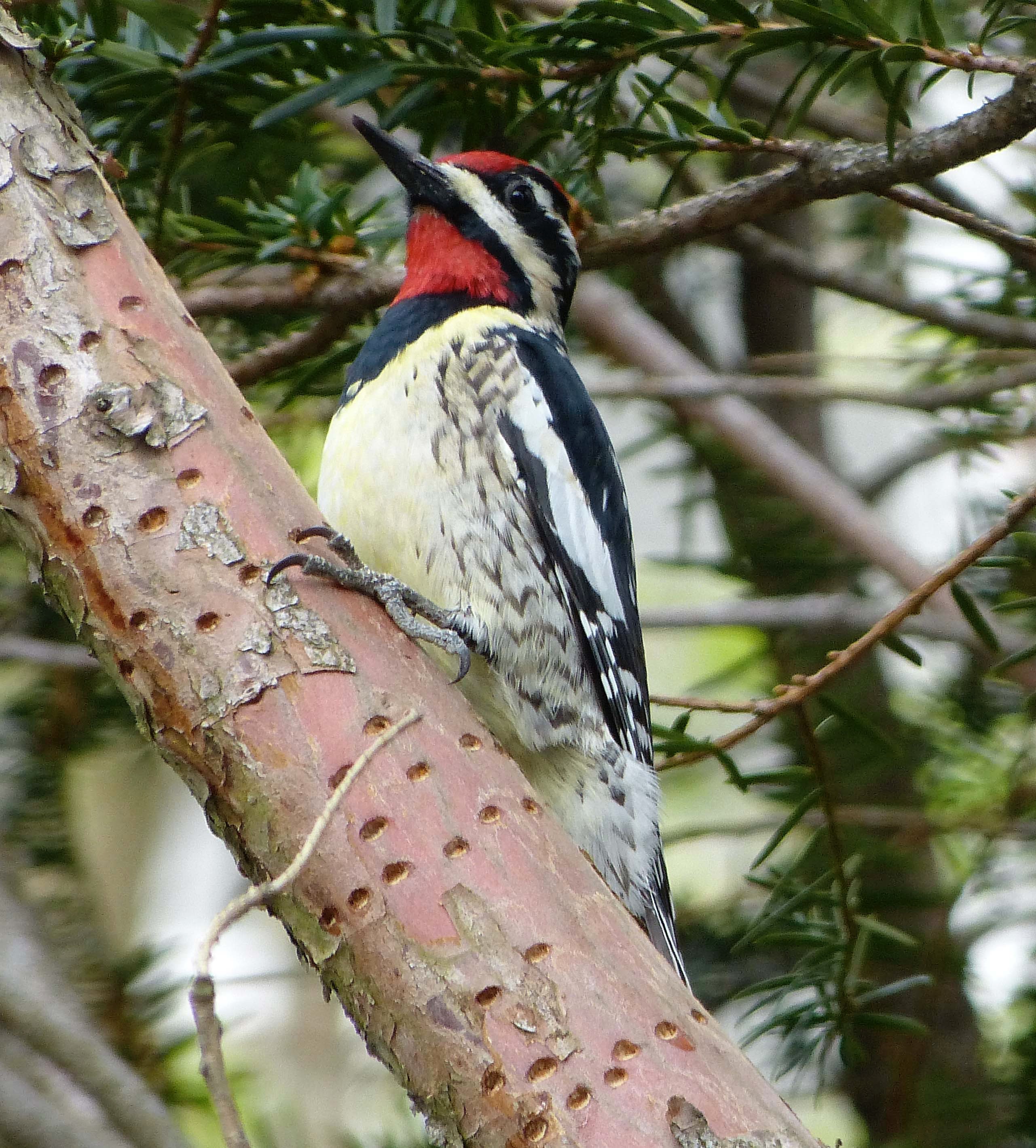 Adult Yellow-bellied Sapsucker on a yew branch, showing the pattern of bark penetration unique to this species.
We continued along Meadow Road, picking up some fairly common birds for the Arboretum.  American Robins were everywhere, feasting on the abundant fruits of the season, especially the juicy berries of the Asian Corktrees.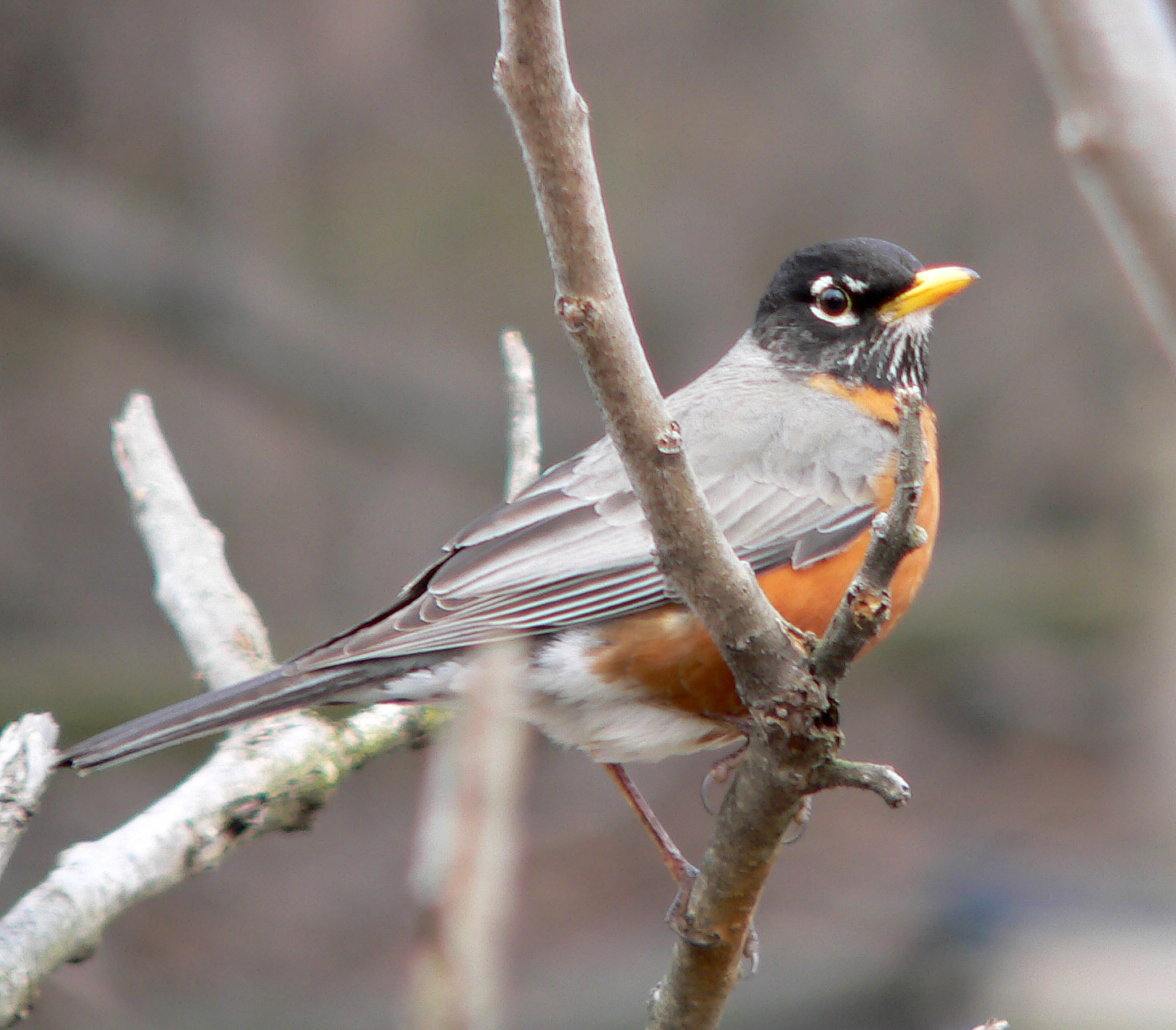 American Robin. The ubiquity of this bird can cause us to miss how handsome they are up close.
We spent some time searching for birds near the three man-made ponds landscaped into the property by Fredrick Law Olmsted at the end of the nineteenth century.  During the drought of late summer two of the ponds nearly dried up, leaving only Dawson Pond as habitat for local aquatic life. Today all the ponds were back after the recent rains.  There were no waterfowl,  but as we rounded a pond we heard a distinctive call:
Recording courtesy of Lang Elliott NatureSound Studio
Flying back and forth over Dawson Pond we saw the bird, a Belted Kingfisher!  Kingfishers are never far from open water, and they usually seek greater bodies than the Arboretum has to offer.  Perhaps the concentration of fish brought on by the dry summer brought this one in. In less than a minute, it flew off to the north. They are striking birds: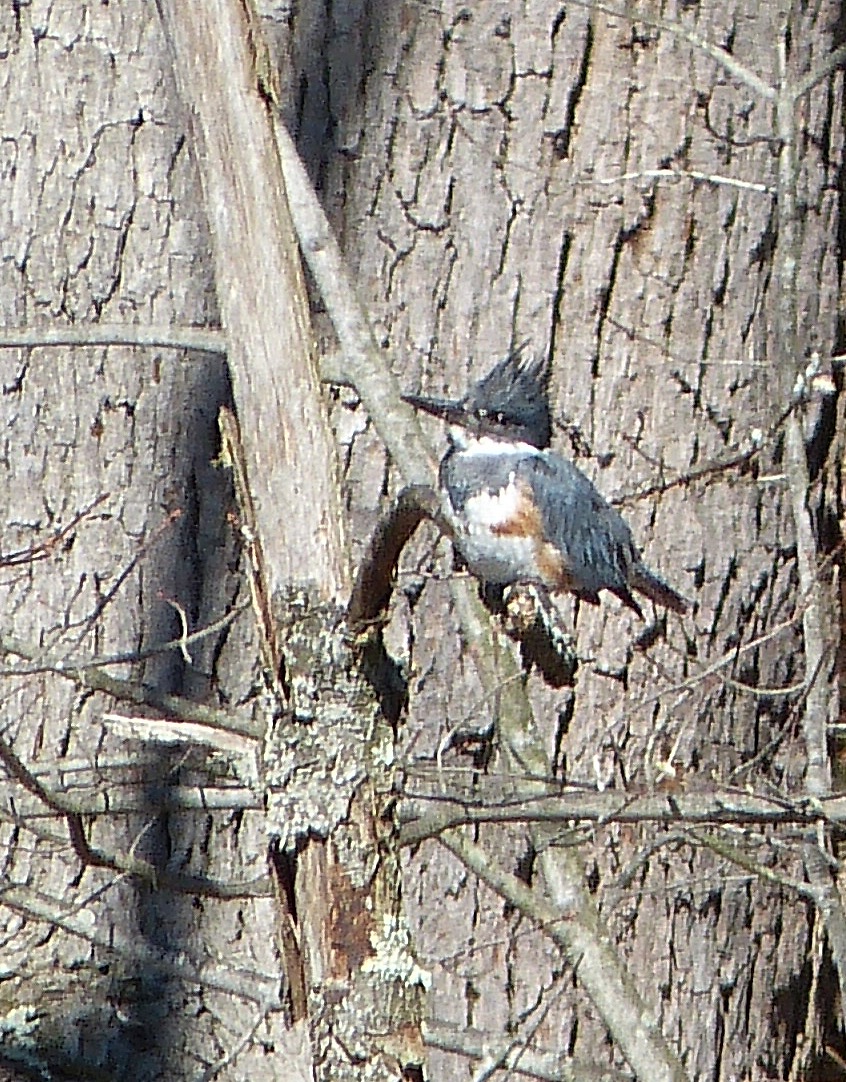 This distant image of a Belted Kingfisher shows it to be a female, from the brown belly band.
The remainder of the walk turned up some other familiar birds.  We ended up with five sparrow species, including the photo of a Swamp Sparrow taken by another photographer in the group. He spotted the bird just before the walk began, and shared it with all of us.   It is quite colorful for a little brown job: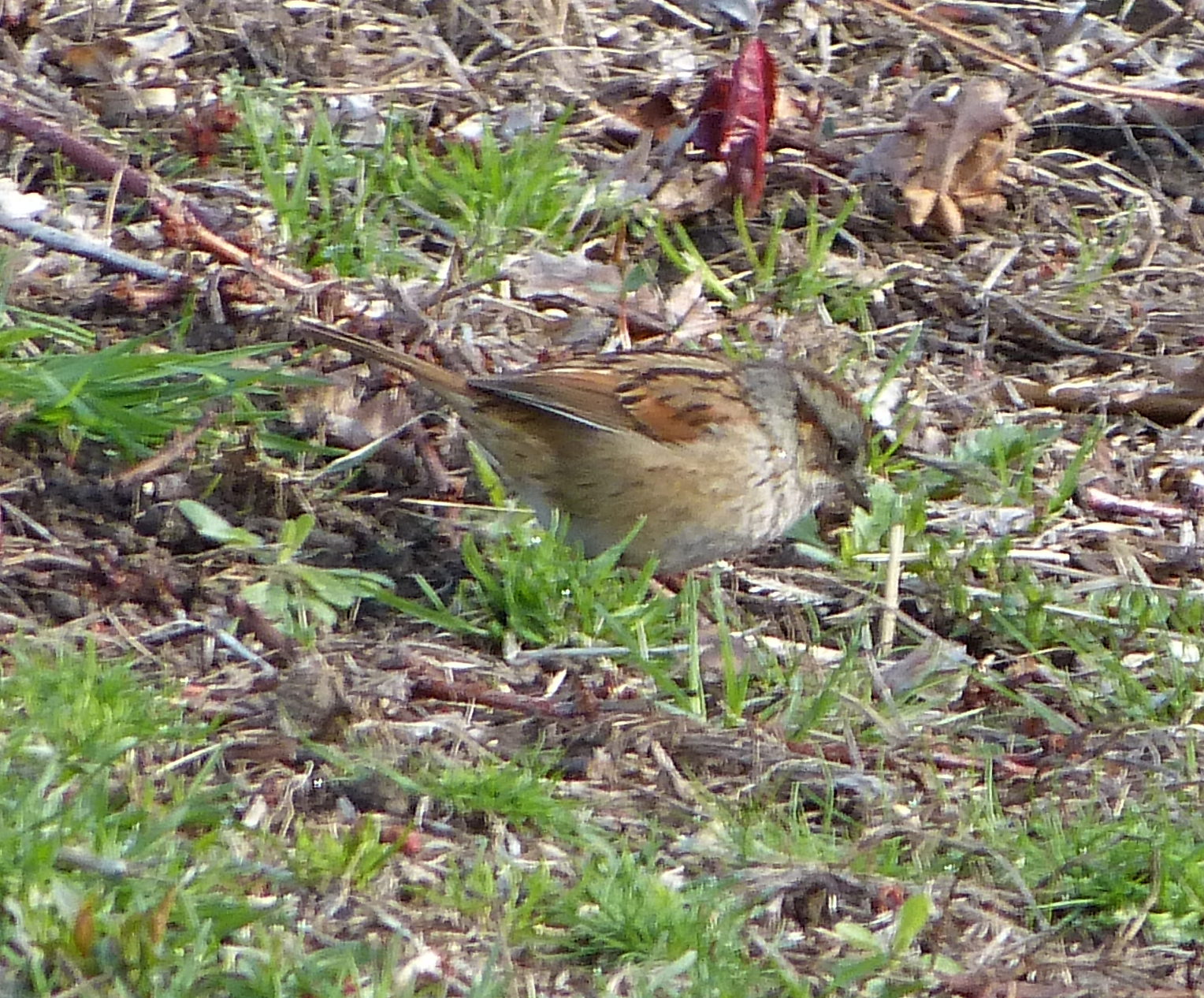 Swamp Sparrow. The rusty-brown cap, gray face with black malar stripe, and rust spot on the wing help to identify this uncommon sparrow.
Here is our final list:
Arnold Arboretum, Suffolk, Massachusetts, US
Oct 10, 2015 8:00 AM – 9:40 AM
Protocol: Traveling
2.0 mile(s)
Comments:     55, sunny
18 species
Mourning Dove  6
Belted Kingfisher  1
Yellow-bellied Sapsucker  2
Blue Jay  4
Black-capped Chickadee  3
Tufted Titmouse  2
White-breasted Nuthatch  3
American Robin  50
Northern Mockingbird  1
European Starling  6
Chipping Sparrow  5
White-throated Sparrow  2
Song Sparrow  3
Swamp Sparrow  1
Northern Cardinal  3
Common Grackle  15
American Goldfinch  8
House Sparrow  15
View this checklist online at http://ebird.org/ebird/view/checklist?subID=S25362753
This report was generated automatically by eBird v3 (http://ebird.org)
My next scheduled bird walk will be on Sunday December 6th, beginning at 9:00AM at the MBTA Longwood Green Line parking lot on Chapel Street in Brookline.  We will look for resident land birds and waterfowl along the Riverway area of the Emerald Necklace.  I hope the current construction in the area won't be too much of a distraction.
Good Birding!